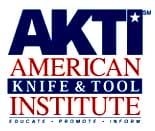 WASHINGTON, DC –-(Ammoland.com)- Thanksgiving is not just turkey and pie. It's an opportunity to let you know that American Knife & Tool Institute ( AKTI ) is grateful for your support.
Our success as the advocacy organization for the knife industry and all knife owners is the result of many people working together to make it happen. We thank everyone who has contacted a legislator, every legislator willing to support repealing or rewriting knife laws, every person who shares a knife with a kid, and every effort to explain knives to those who just don't get it!
We'd like to spotlight someone who has done an excellent job educating about knives.
Read about Xan Martin's presentation to California public defenders and private attorneys.
Thanks Xan for your tremendous effort!
Remember to place your maximum bid on the Buck 110 50th Anniversary Set – by Nov. 30th!
Our online auction helps raise funds to make positive knife law changes for everyone. Bid today!
Have a wonderful Thanksgiving with your family and friends. Thank you again for support the efforts of the American Knife & Tool Institute to protect your rights regarding knives.
Enjoy the turkey and pie!
The Board of Regents of the American Knife & Tool Institute
Rod Bremer, President CRKT
CJ Buck, President Buck Knives
Les de Asis, CEO Benchmade Knives
Rob Kass, President Gerber
Jerry Heinlen, President SOG
Morgan Taylor, President Taylor Brands
John Sullivan, Vice President W.R. Case & Sons
Jan Billeb, Executive Director
Daniel Lawson, Legal Counsel
ABOUT:
The American Knife & Tool Institute (www.AKTI.org) has been the advocacy voice of the entire knife community since 1998, ensuring that Americans will always be able to make, buy, sell, own, carry and use knives and edged tools. AKTI is recognized worldwide as a respected, credible and accurate source of knife legislation information, legislative input, and industry information with a successful, proven record of accomplishments in making effective changes to restrictive knife laws and promoting reasonable and responsible laws and enforcement.