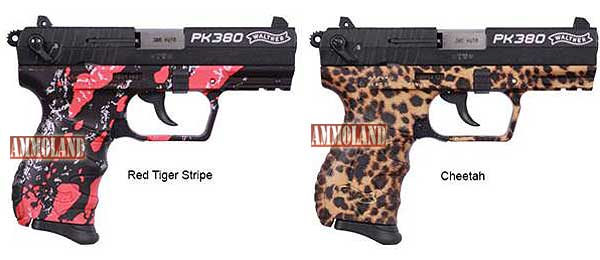 PRESCOTT, ARIZONA – -(Ammoland.com)- Continuing the reminder that pistol shooting does not have to be all business but can also be just plain fun, Davidson's has come up with two new finishes for the Walther PK380.
Now offered in a "Red Tiger Stripe" and "Cheetah" finish, consumers are no longer tied down to "any color as long as it's black".
While the PK380 is excellent for concealed carry, these new finishes for this pistol are sure to strike up conversations at the range as well as letting the owner have something truly unique and lively in their collection.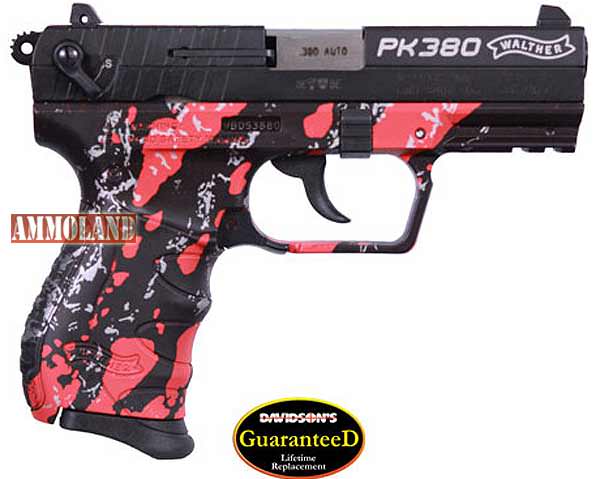 The Walther PK380 is a small, concealable double-action pistol, chambered of course in .380ACP, with a 3.66" barrel. The slide of the PK380 is easily operable making this a great choice for many female shooters or any gun enthusiast who may have smaller hands or lacks the grip strength traditionally needed with larger, heavier-caliber pistols. The PK380 has an external hammer, and an integral accessory rail for adding a light or laser.
Standard features for the PK380 include 3-dot sights, an 8+1 capacity, an overall length of 6.5", unloaded weight of just 19.4 ounces, and each model includes two magazines. With an ambidextrous magazine release and manual safety, the PK380 is just right for either left or right-hand shooters.
Consumers can order either of these two new exclusives from their Davidson's dealer or online at their consumer website, GalleryofGuns.com, by selecting item# 5050319 (Cheetah) or 5050318 (Red Tiger Stripe).
About Davidson's: Founded in 1932 Davidson's has grown into one of the nation's top firearms wholesalers. Located in Prescott, Arizona it proudly distributes over 80 brands of firearms to dealers nationwide. The company's "GuaranteeD Lifetime Replacement Program" and its consumer website GalleryofGuns.com are two of the company's unique services designed to help promote the businesses of its dealers. For more information please call 336-665-0644.