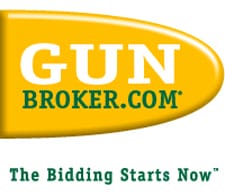 Kennesaw, GA -(Ammoland.com)- GunBroker.com announces a mobile app update with robust features for sellers and buyers.
The free app, optimized for phone and tablet, allows users to access the world's largest online auction of firearms and accessories on mobile devices. Buyers can manage buying activity at a glance and sellers can watch items sell while on the go.
The Version 3 update is available immediately for download at the App Store and Google Play. Start the bidding wherever and whenever. Sellers will appreciate the new My GunBroker Selling interface with notifications to monitor sales, the ability to track items, see items with bids, monitor item sales and connect with buyers. Sellers can also update payment, FFL and shipping status via the mobile app.
Buyers can browse and search for items, run saved searches and place items on a watch list in order to find the perfect item to buy. Buyers can also perform advanced searches by scanning the UPC code or entering a favorite seller's username. Buyers can also find an FFL to handle the transfer.
Enhanced features include outbid and item sold notifications which will provide users with up to the minute information. Users can set their own alert preferences to customized alerts. The FFL Finder locates FFLs by zip code or device location.
"We continually strive to improve the process for our sellers and buyers," explained GunBroker.com COO Don Hall. "Sellers and buyers will like the new features and updates to our mobile app."
Launched in 1999, GunBroker.com has become the world's largest gun auction website.
For more information about GunBroker.com and its mobile app, visit GunBroker.com/OnTheGo.
About GunBroker.com
GunBroker.com is the world's largest gun auction website. Launched in 1999, GunBroker.com is an informative, secure and safe way to buy and sell firearms, ammunition and hunting/shooting gear online. GunBroker.com promotes responsible ownership of guns and firearms. Aside from merchandise bearing its logo, GunBroker.com sells none of the items listed on its website. Third-party sellers list items on the site and Federal and state laws govern the sale of firearms and other restricted items. Ownership policies and regulations are followed using licensed firearms dealers as transfer agents.