Product Naming Standards Modernized In Wake of 30th Anniversary in the USA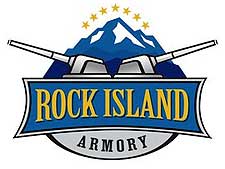 Pahrump, NV – (Ammoland.com) 1911 manufacturer Rock Island Armory and its parent company, Armscor USA are celebrating 30 years of doing business in the United States by updating three of their flagship 1911 series titles.

Retired Series Names          Updated Series Names
1911 Tactical Series              Rock Series
2011 Tactical Series              TAC Ultra Series
Match Series                          PRO Match Series
The term "Ultra" has been assigned to products that include upgrades such as G10 Grips, fiber optic front sights, skeletonized triggers, etc.
The Rock Series (formerly 1911 Tactical Series) is an evolution from the basic GI Series 1911s. The series offers over 20 Full-Size (FS), Mid-Size (MS) and Compact-Size (CS) 1911 variations in different finishes along with high capacity options. The basic upgrades include an extended beavertail, skeletonized hammer, low profile dovetailed sights and more.
The TAC Series (formerly 2011 Tactical Series) includes many of the same upgrades found in the Rock Series, with the additions of fiber optic front sight, a Picatinny tactical rail along with a full dust cover. The series includes 14 total pistols in FS, MS and CS along and high capacity and single stack models.
The Pro Match Series (formerly Match Series) includes 6 variations of gunsmith tuned 1911s made to be "competition ready" out of the box. It includes 5" and 6″ models in .45 ACP, 10mm and .40 S&W.
In addition to the naming structure, Armscor is also offering consumers online rebates with the purchase of any .22 TCM chambered 1911 pistol or rifle in 2015. To redeem rebates online and to learn more about the 30 Year Anniversary TCM Rebate program, visit www.armscor.com/30years.
About Armscor / Rock Island Armory
Armscor and Rock Island Armory is a leading global manufacturer of ammunition and firearms, as well as one of the largest producers of 1911 pistols in the world. With an unprecedented focus on customer service and satisfaction, Armscor has become a driving force in the American and worldwide firearms industry, exporting to over 50 countries on 6 continents.