Mystery Ranch packs are now at your fingertips like never before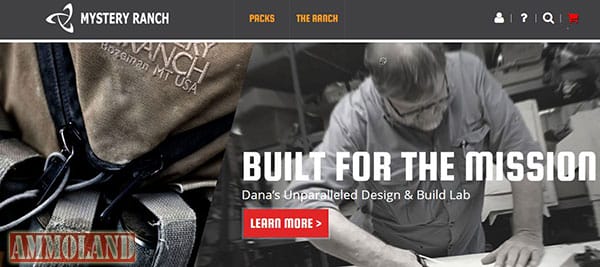 Bozeman, MT -(Ammoland.com)- Mystery Ranch, a pack company with a product line focused on function, comfort, quality and durability, is pleased to announce the recent launch of its all-new, state-of-the-art website.
This website has been built to feature the plethora of successful mountain, hunting, urban, fire and military packs that Mystery Ranch is proud to call their own. This fresh source of information allows viewers to easily access vital specifications regarding the entire lineup of Mystery Ranch packs.
The website enables an individual to easily find a product that fits their needs with only a few clicks of the mouse. The design, ease of navigation and endless information makes the all-new www.mysteryranch.com a prime resource for everything Mystery Ranch.
"We are excited about the accessibility to our products that this new website will provide," stated Vice President of Marketing and Sales, Alex Kutches. "We know that this new avenue will greatly increase our reach and benefit the company for years to come."
Mystery Ranch has been manufacturing packs and load carriage systems for military, hunting, wildland fire and mountaineering customers since 2000. With a focus on user-centric designs and hand-built quality, Mystery Ranch is a global brand with worldwide production and distribution.
Dana Gleason and partner Renée Sippel-Baker founded Mystery Ranch in 2000, but have worked together since 1978. In 1985, the duo co-founded and ran Dana Design, the backpack company that changed the industry standard in comfort, quality and load carriage technology.
About Mystery Ranch
Mystery Ranch is committed to building the finest load carriage equipment in the world. A product-driven company from the beginning, Mystery Ranch designs packs for the job that needs to get done, for the people committed to doing it, with the best materials available and the most durable construction methods that exist.
For more information, please visit www.MysteryRanch.com.