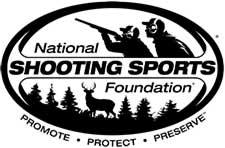 NEWTOWN, Conn. -(Ammoland.com)- Debbie Buzby-Cope, president of the New Jersey Conference of Mayors, presented NSSF with an Award of Appreciation for its support of the organization's community Gun Safety initiative at NJCM's Spring Conference in Atlantic City last Thursday.
With encouragement from its gun safety committee, NJCM has worked with NSSF to provide NSSF's Project ChildSafe program and firearm safety materials, including the new "How to Talk to Your Kids about Gun Safety" video, to mayors, law enforcement and school leaders in communities throughout The Garden State.
At the conference, NSSF exhibited its Project ChildSafe/ "Own It? Respect It. Secure It." campaigns and also discussed gun safety in an interview with Comcast News. Additionally, NJCM announced its support for legislation that would bring gun safety education to New Jersey schools.
About NSSFThe National Shooting Sports Foundation is the trade association for the firearms industry. Its mission is to promote, protect and preserve hunting and the shooting sports. Formed in 1961, NSSF has a membership of more than 6,000 manufacturers, distributors, firearms retailers, shooting ranges, sportsmen's organizations and publishers. For more information, log on to www.nssf.org.