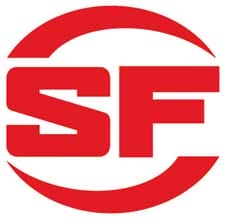 Fountain Valley, CA -(Ammoland.com)- SureFire, LLC, manufacturer of high-performance illumination tools, WeaponLights, suppressors, and tactical products is building upon the success of its award-winning SF Ryder 22-A suppressor—awarded "Suppressor of the Year" by Guns & Ammo—by releasing a battle-ready version for 9mm pistols and rifles.
The new SF Ryder 9-Ti—"Ti" standing for titanium—features an ultra-light titanium tube, front plate, and rear plate that help minimize the suppressor's overall weight without any sacrifice in strength. The 9mm SF Ryder 9 Ti—like the .22 suppressor upon which it is based—features pig-nose baffles that provide superior sound attenuation and reduced muzzle blast by precisely directing gasses from fired rounds.
This ingenious baffle design—in this case built from durable, heat-treated stainless steel—also makes cleaning the suppressor a simple process. Built-in spacers help reduce carbon buildup between the baffles and the suppressor tube, and every baffle is indexed and individually numbered for foolproof disassembly and reassembly—made even easier by an included assembly/disassembly tool.
Along with use of high-grade titanium in its construction, the 9.5-ounce Ryder 9Ti reduces weight through a clever outer tube design that features rounded edges and fluting, which also makes it easier to get an accurate sight picture with the suppressor attached. The thread-on suppressor securely attaches via single-point cut threads available in either ½x28 or M13.5×1 thread sizes. Attaching the suppressor is simply a matter of screwing it on to a compatibly threaded 9mm barrel until hand tight.
Built to exacting standards and unrelenting quality like SureFire's battle-proven Fast-Attach SOCOM suppressors, the Ryder 9Ti is designed for recreational shooting and tactical applications. Its titanium and stainless steel construction, precision threading, and a tough, attractive Cerakote finish available in three colors—black, dark earth, and wolf gray—make it ideal for most any application. MSRP is $799, and the suppressor is available for purchase through authorized SureFire suppressor dealers.
For complete information and to see the live-fire video visit www.surefire.com/sf-ryderseries.
About SureFire
Located in Fountain Valley, California, SureFire, LLC is the leading manufacturer of high-performance flashlights, weapon-mounted lights, and other tactical equipment for those who go in harm's way, or anyone who demands the ultimate in quality, innovation, and performance. SureFire illumination tools are used by more SWAT teams and elite special operations groups than any other brand. SureFire is an ISO 9001:2000-certified company.
For more information, please visit www.SureFire.com.