Meet the A17: A Shooting Star
Suffield, CT -(Ammoland.com)- In a groundbreaking victory for shooters seeking a high-performance rimfire autoloader capable of flawlessly handling a magnum cartridge, Savage Arms has unveiled the new semiautomatic A17.
Chambered in 17 HMR, the revolutionary rifle frees the hard-hitting, low-recoil cartridge from the bondage of bolt guns by delivering reliable semi-automatic operation with a unique, delayed-blowback action. Past attempts by various gun manufacturers to design a smooth-cycling, affordable semi-auto chambered for high-octane 17 HMR loads have faltered. But Savage engineers accomplished the feat by scrapping standard straight-blowback designs—which eject spent casings via overpressure during firing—in favor of the delayed approach.
To pull it off, they used an innovative interrupter lug to lock down the bolt until peak pressure has passed when a round heads downrange. This method of timing prevents the bolt from opening prematurely, banishing fears of ruptured cases. It also serves as a firing pin block, preventing out-of-battery firing when the action is open. As a bonus, the cutting-edge system yields improvements in control and accuracy.
To further ensure a perfect marriage between rifle and round, the iconic gun maker worked with sister company CCI Ammunition to develop the A17 Varmint Tip, a lightning-fast, flat-shooting load tailor-made to the new semi-auto. In a nod to the need to accept diverse munitions, the A17 also easily accommodates standard 17 HMR loads.
Developed in 2002, the 17 HMR descends from a necked-down 22 Magnum case to accept a .17-caliber bullet. Aimed at small game and varmint hunting, along with target shooting and all-round plinking, it offers a flatter trajectory, longer range, higher muzzle velocity and less risk of short-range ricochet thanks to bullet breakup. Until now, only gunners armed with bolt-action rifles or expensive specialty semi-autos have reaped these benefits.
Designed for all levels of expertise, the easy-handling A17 is ideal for transitioning youths and other new shooters from short-range 22 Long Rifle options to higher caliber platforms. The tack-driving, fun-to-shoot rifle is loaded with user-friendly features such as Savage Arms' adjustable AccuTrigger, which lets shooters easily fine-tune trigger pull to match their personal taste.
Raising the bar in safety, the A17's bolt stop easily locks the bolt in an open position when needed, while its dual-safety trigger blocks both the hammer and trigger, preventing accidental discharge.
Added amenities include an oversized-bolt charging handle for effortless loading, and a flush-fitting, 10-round, rotary magazine with dual-controlled feeding mechanism. Plus, the rear cover engenders fast field stripping for easy cleaning.
A17 17 HMR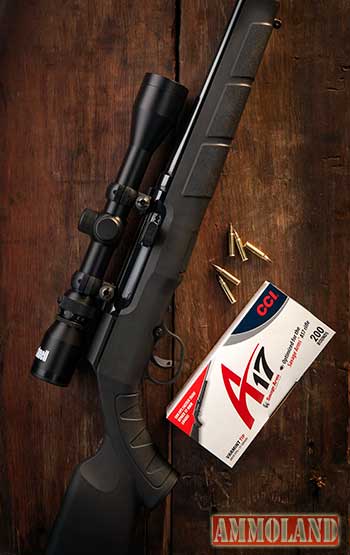 Savage Arms continues its track record of innovation with the all-new A17, the first high-performance semi-automatic rimfire specifically designed for the 17 HMR cartridge.
Its unique delayed-blowback action performs to its peak with new A17 Varmint Tip ammunition, which CCI developed specifically for the rifle. The A17 also provides safe, reliable operation with standard 17 HMR loads. The hard chrome bolt, case-hardened receiver, 10-round rotary magazine and button-rifled barrel boost performance even further, while the user-adjustable AccuTrigger provides a crisp, light pull for the best possible accuracy.
Features & Benefits:
First semi-automatic rimfire specifically designed from the ground-up for the 17 HMR
Delayed-blowback action ensures safe, reliable cycling
Hard chrome bolt
Case-hardened receiver
Oversized bolt handle
10-round rotary magazine
22-inch button-rifled barrel
User-adjustable AccuTrigger
For peak performance, pair with CCI A17 Varmint Tip ammunition
Part No. / Description / UPC / MSRP:
47001 / A17 semi-automatic rifle, 17 HMR / 0-11356-47001-1 / $465
Like the rest of Savage Arms' lineup, the A17 is designed from the ground up to offer flawless performance. For starters, it sports thread-in barrel headspacing similar to the company's legendary centerfires. The 22-inch, carbon steel, blued barrel is button rifled for exceptional accuracy and perfectly balanced with the rugged black-matte synthetic stock.
The A17 has a case-hardened receiver and hard-chromed, stabilized bolt for added dependability. It measures 42 inches long, weighs 5.41 pounds and is drilled and tapped for scope mounts. It's a perfect match for aftermarket options including a 3.5-10x36mm Bushnell Rimfire Optics scope, Butler Creek MultiFlex eyepiece and Weaver Grand Slam 1-inch rings.
One of the A17's final noteworthy features is a price tag that doesn't trigger sticker shock. With a suggested retail of just $465, this exciting new rifle not only ushers in a brave new era of magnum semi-automatic performance, it makes the groundbreaking technology affordable to hunters and recreational shooters everywhere.
Learn more at www.SavageArms.com.
Savage Arms is a brand of Vista Outdoor Inc., an outdoor sports and recreation company.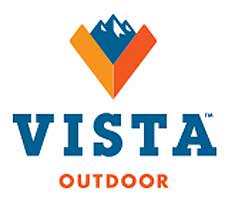 About Vista Outdoor
Vista Outdoor is a leading global designer, manufacturer and marketer in the growing outdoor sports and recreation markets. The company operates in two segments, Shooting Sports and Outdoor Products, and has more than 30 well-recognized brands that provide consumers with a range of performance-driven, high-quality and innovative products in the ammunition, firearms and outdoor accessories categories. Vista Outdoor products are sold at leading retailers and distributors across North America and worldwide. Vista Outdoor is headquartered in Utah and has manufacturing operations and facilities in 10 U.S. States, Puerto Rico, Mexico and Canada along with international sales and sourcing operations in Canada, Europe, Australia, New Zealand and Asia.
For news and information visit www.vistaoutdoor.com or follow us on Twitter @VistaOutdoorInc and Facebook at www.facebook.com/vistaoutdoor.