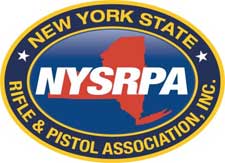 New York –-(Ammoland.com)- In response to the SAFE Act gun registration numbers released by the New York State Police, NYSRPA President Tom King made this statement:
"I am amused at the pathetically low numbers of New Yorkers who registered their so-called assault rifles."

"The number of individuals who registered their guns is 24,000 and many of these are law-enforcement officials mandated to comply by their department. "

"In short, New Yorkers have, by their lack of compliance, effectively repealed a portion of the NY SAFE Act. Congratulations to the gun owners of New York State."

"The NY SAFE Act is a blatant violation of our specifcally enumerated Constitutional freedom, period. I am proud of the comprehensive litigation that NYSRPA has filed with the help and support of the NRA to overturn this deeply-flawed law. New York gun owners know it is flawed and they are not complying with it. I am confident that we will ultimately prevail in getting significant portions of the law overturned in the courts."
The bottom line is 23,847 people since the 2013 law took effect have applied to register assault style weapons. A total of 44,485 weapons have been registered.
Here's a breakdown by county of applications to register assault weapons since Jan 15 2013:
Albany 484
Allegany 83
Bronx 35
Broome 351
Cattaraugus 137
Cayuga 194
Chautauqua 311
Chemung 195
Chenango 116
Clinton 203
Columbia 124
Cortland 97
Delaware 96
Dutchess 731
Erie 1,593
Essex 107
Franklin 113
Fulton 102
Genesee 131
Greene 113
Hamilton 21
Herkimer 140
Jefferson 291
Kings (Brooklyn) 54
Lewis 60
Livingston 128
Madison 160
Monroe 1,408
Montgomery 87
Nassau 2,755
New York (Manhattan) 1,640
Niagara 492
Oneida 451
Onondaga 916
Ontario 260
Orange 985
Orleans 87
Oswego 281
Otsego 126
Putnam 411
Queens 109
Rensselaer 334
Richmond (Staten Island) 52
Rockland 451
Saint Lawrence 259
Saratoga 573
Schenectady 274
Schoharie 78
Schuyler 49
Seneca 69
Steuben 208
Suffolk 3,865
Sullivan 229
Tioga 122
Tompkins 134
Ulster 463
Warren 181
Washington 124
Wayne 244
Westchester 1,498
Wyoming 84
Yates 87
(Source: New York State Police)
Millions more of New York's firearms owners continue to defy the law and keep their guns unregistered.
About:
The New York State Rifle & Pistol Association is the state's largest and oldest firearms advocacy organization. Since 1871, our organization has been dedicated to the preservation of Second Amendment rights, firearm safety, education and training, and the shooting sports. Our membership consists of individuals and clubs throughout the state. We are a not-for-profit 501(c)4 organization and the official NRA-affiliated State Association in New York. Visit: www.nysrpa.org