Shooting USA's Impossible Shots – The Modern Annie Oakley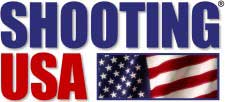 Nashville, TN -(AmmoLand.com)- Shooting by sighting with a mirror. It's the famous exhibition shot simply known as the "Annie Oakley."
All of our Pro Shooters have tried it in the past, except Julie Golob, until now. Julie is shooting over her shoulder with an M&P 15-22 as her take on the Modern Annie Oakley. Plus, Mr. Flintlock tries for a long-range shot with a round ball.
Shooting USA – IPSC World Shoot
It's the handgun world championship that begins with the parade of nations, as the IPSC World Shoot returns to the U.S. after more than 25 years. The best in the world are competing in the sport, with the modern technique Jeff Cooper created more than 40 years ago. Plus, the breechloader that would change gun-making forever, the Hall Carbine is one of History's Guns.
AIR TIMES BY TIME ZONE
The Shooting USA Hour Wednesday:
Eastern Time: 3:00PM, 9:00PM, 12:30 AM Thursday
Central Time: 2:00 PM, 8:00 PM, 11:30 PM
Mountain Time: 1:00 PM, 7:00 PM, 10:30 PM
Pacific Time: 12:00 Noon, 6:00 PM, 9:30 PM
Shooting USA is listed as a one-hour show in your cable menu.
Shooting USA's Impossible Shots:
Monday
Eastern Time: 4:30 PM
Central Time: 3:30 PM
Mountain Time: 2:30 PM
Pacific Time: 1:30 PM
Wednesday:
Eastern Time: 2:00 AM, 12:00 PM Midnight
Central Time: 1:00 AM, 11:00 PM
Mountain Time: 12:00 AM Tuesday, 10:00 PM
Pacific Time: 11:00 PM Tuesday, 9:00 PM
Saturday:
Eastern Time: 1:00 AM
Central Time: 12:00 Midnight Friday
Mountain Time: 11:00 PM Friday
Pacific Time: 10:00 PM Friday
Bow School
He's the Master of the Longbow, and also a personal instructor. Legendary archer Byron Ferguson is running the Bare Bow Shooting School in Tennessee, and Impossible Shots Producer Michael Buchanan is playing student – plus, he's covering the action from the 3-day training. Stay tuned for our coverage in the coming weeks!
Follow the Action
Be sure to "Like" Shooting USA on Facebook! https://www.facebook.com/JimScoutten.ShootingUSA?fref=photo.
About Shooting USA
Jim Scoutten, America's Most Watched Firearms Reporter, has been on the beat for 14 years, reporting the stories of the Shooting Sports and the firearms Industry. The show produces a series of popular segments focusing on historical guns, the personalities in the sport and industry, insider reports from gun tests, and practical tips from shooting sports pros. The show appeals to shooting sports enthusiasts of all ages and skill levels by providing practical tips on safely handling, modifying and repairing their favorite guns.
For more information, please visit www.ShootingUSA.com.