Adelaide, AU -(AmmoLand.com)- If you've done your homework on light bars and driving lights to outfit your truck, ATV or side-by-side vehicle, you already know the benefits of LEDs.
LEDs have approximately ten times the lifespan of traditional lights, and just as LED lights stand out over traditional vehicle lighting options, Lightforce LEDs stand out over other brands. The Lightforce philosophy that "quality is designed in, not inspected in" means their lights are superior from the start.
Add in exacting specifications, along with the most advanced equipment and manufacturing techniques available, and it's easy to see why Lightforce is a cut above the rest.
The only thing that matches Lightforce quality is their performance, and the company's LED bars and driving lights set new benchmarks.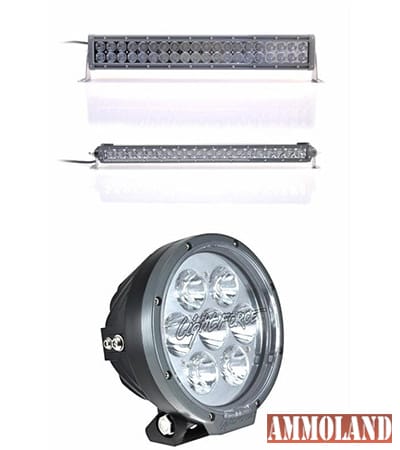 High-output European LEDs produce unparalleled performance, and every bar in the LED line is extruded from aluminium and finished in a UV resistant anodized coating to face some of the harshest conditions in the world.
Tried and tested, Lightforce delivers products that have been designed, developed and manufactured to operate in environmental extremes – from the harsh Australian Outback and Sahara Desert to the freezing Alaskan Tundra and beyond.
Best of all, they deliver all that quality and performance while helping look after Mother Earth. Unlike their competitors, Lightforce has undertaken pioneering work in the use of modern composite and eco-friendly materials, helping them earn a number of prestigious Australian and international design awards.
When you're ready to get serious about outfitting your vehicle with LEDs, compare Lightforce and you'll see why they are light-years ahead of the competition.
For more information on the complete line of Lightforce LED products, visit www.lightforce.com.
About Lightforce
With more than 20 years' experience in the field of precision manufacturing, Lightforce has forged an international reputation as the world's leading manufacturer of innovative 12 volt professional lighting equipment and tactical riflescope optics. Lightforce now exports to more than 50 countries, supplying products that are designed and manufactured to deliver performance in the most hostile conditions. From the frozen Arctic tundra to the scorching heat of the Australian Outback, Lightforce products are built to go the distance.
For more information, please visit www.Lightforce.com.