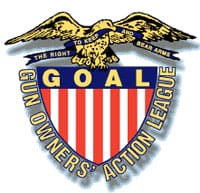 Northboro, Massachusetts – -(Ammoland.com)- The Gun Owners Action League of Massachusetts (GOAL) announced that today it filed new legislation, "An Act Relative to 'Gun Free' Zones", to address the dangers of gun free zones and increase the ability for citizens to defend themselves.
This important legislation was filed on GOAL's behalf by Rep. John C. Velis (D – Westfield) and will create a commission to review current and future policies regarding "gun free" zones in the Commonwealth.
"This legislation would analyze our current laws about 'Gun Free' zones here in Massachusetts. In light of the recent attacks in Tennessee, it's extremely important that we evaluate our current laws and see if there are better ways to protect the public," said Representative John Velis.

"I believe this legislation will bring the best minds together to identify potentially unsafe areas and come up with solutions for increasing the safety of the citizens of the Commonwealth."
Read the rest here: https://www.goal.org/legislation/gun-free-zone-legislation.html
Take Action Today!
Please call your state legislator today, urge them to sign onto this important legislation as a co-sponsor.
Please share this information with your friends and family, urge them to make the call!
Click here to find contact information for your legislator.