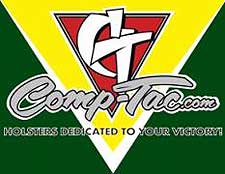 Houston, TX -(AmmoLand.com)- Comp-Tac Victory Gear, a leading manufacturer of concealed carry holsters, competition or range use holsters and other firearms related accessories has released a brand new mounting option: the PLM.
The Push-Button Locking Mount (PLM) offers the ability to carry a holster or magazine pouch with an easy push button removal.
The PLM gives users the option to mount their every day carry holsters, magazine pouches, light holders or pepper spray carriers to almost any belt or bag. The push-button operation detaches with ease. The PLM offers an exceptional balance of easy attachment and secure hold through a one-of-a-kind locking mechanism. By sliding the push button horizontally the attachment will lock securely.
In addition to the easy to use push-button lock, the PLM provides an internal width adjustment bar that allows for adjustment from 1/4" to 2 1/4". With 9 mounting holes, the PLM can be attached to any number of products and allow for cant adjustability up to 270°. Made of high quality durable polymer, the PLM will withstand the most rigorous tests while continuing to be gentle on belts and clothing.
"Comp-Tac takes great pride in offering customers effective, easy to use, durable holster and magazine pouch mounting options. The PLM is the newest innovation in removable, user friendly, locking mounts. Nothing else on the market compares to the PLM," explains Gregg Garrett owner and president of Comp-Tac.
The PLM is available immediately and retails for an MSRP of $9.49.
For more information on the full line of Comp-Tac holsters and gear, visit www.Comp-Tac.com, follow Comp-Tac on Facebook at www.facebook.com/CompTac, Twitter at @CompTac or visit our Blog.
About Comp-Tac Victory Gear
In 2000 I started Comp-Tac with the intention of designing holsters of the highest quality for defensive and competition shooting. I started off with the Locking Paddle and over the years have designed over 30 products with 92,000 possible variations to accommodate your lifestyle and needs. Comp-Tac has grown from a one man shop to a business with dozens of employees. What started in my garage has grown into a drafting room, production line, customer service department, shipping department, and leather shop. Thanks to the great support of our customers and through their input we continue to grow and refine our product line. Whether you are competing for fun or in the fight for your life, no company offers more holsters dedicated to your victory.
For more information, please visit www.Comp-Tac.com.