United Sporting Companies Exclusive .380 Pistol Available with Custom Machine Engraving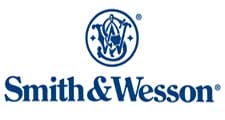 Springfield, MA -(AmmoLand.com)- Smith & Wesson and the United Sporting Companies are offering shooters and collectors alike a chance to own a piece of living art with the introduction of the machine-engraved M&P BODYGUARD 380 pistol.
The new M&P BODYGUARD 380 features intricate machine engraving across the slide made possible by a diamond-tipped tool. This clean and sharp scrollwork brings added value and aesthetics to this already highly regarded personal protection handgun.
Chambered for .380 AUTO, the lightweight pistol features a high-strength polymer frame with a stainless steel slide and barrel. On both sides of the matte silver slide, decorative scrollwork produced through the Smith & Wesson Custom Engraving Shop depicts precision checkering and symmetrical filigree. On the left side of the frame toward the rear of the slide, the M&P logo is clearly placed along with the wording "BODYGUARD 380."
The M&P BODYGUARD 380 retains original design features including a 2 ¾-inch barrel, which contributes to an overall length of 5 ¼ inches and an unloaded weight of only 12.3 ounces. With its slim-line ergonomic grip, the pistol fits comfortably in the hand and points naturally. Compact, sleek and ergonomic, the new pistol provides owners with optimal personal protection in an easy-to-carry, decorative platform.
Additional features include a double-action fire control system, which allows for rapid second-strike capability. Adding to its simplicity, the BODYGUARD 380 is standard with a manual thumb safety and an external take down lever and slide stop. To help aid in quick sight acquisition, the pistol is standard with stainless steel, drift adjustable dovetail sights. The new M&P BODYGUARD 380 has a 6+1 capacity and comes standard with Smith & Wesson's lifetime service policy.
For more information on the new United Sporting Companies Exclusive M&P BODYGUARD 380 pistol, please visit www.smith-wesson.com.
About United Sporting Companies (USC)
United Sporting Companies (USC) is a leading nationwide distributor of hunting, outdoor and marine products. The company operates through two subsidiaries, Ellett Brothers and Jerry's Sport Center which were founded in 1933 and 1949, respectively.
About Smith & Wesson
Smith & Wesson Holding Corporation (NASDAQ Global Select: SWHC) is a U.S.-based leader in firearm manufacturing and design, delivering a broad portfolio of quality firearms, related products, and training to the global military, law enforcement, and consumer markets. The company's firearm division brands include Smith & Wesson, M&P, and Thompson/Center Arms. As an industry leading manufacturer of shooting, reloading, gunsmithing and gun cleaning supplies, the company's accessories division produces innovative, top quality products under Battenfeld Technologies, Inc., including Caldwell Shooting Supplies, Wheeler Engineering, Tipton Gun Cleaning Supplies, Frankford Arsenal Reloading Tools, Lockdown Vault Accessories, and Hooyman Premium Tree Saws. Smith & Wesson facilities are located in Massachusetts, Maine, Connecticut, and Missouri.
For more information on Smith & Wesson, call (800) 331-0852 or log on to www.smith-wesson.com.