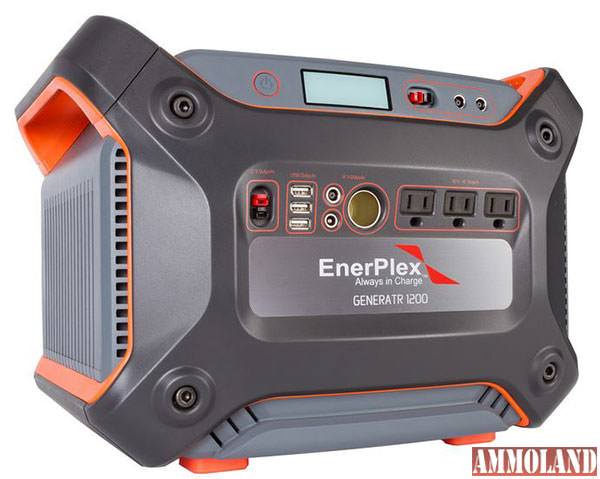 Denver, CO -(AmmoLand.com)- EnerPlex, a leading manufacturer of innovative, portable power solutions, has partnered with Backbone Media to manage its communications strategy and public relations outreach.
Founded in 2012, EnerPlex exclusively uses solar panels that are backed by a plastic substrate rather than glass—a process pioneered, patented and manufactured in Colorado by its parent company Ascent Solar. EnerPlex solar chargers are incredibly lightweight and the most durable and flexible on the market. For its power storage devices, EnerPlex uses lithium-ion polymer batteries, which are significantly lighter than industry-standard lead-acid batteries.
"We're bringing some of the world's most advanced solar and power storage technologies to a market with a huge potential for growth," says Justin Jacobs, EnerPlex's manager of brand development. "We're thrilled to grow our brand with Backbone as a partner to help us reach active lifestyle consumers."
EnerPlex debuted two new products at this month's Outdoor Retailer show: the Commandr XII, a 19-watt solar charger, and the Generatr Y1200, a 1,231-watt/hour large-scale battery. The Commandr XII weighs 1.65 pounds and offers an industry-best power-to-weight ratio; the Generatr Y1200 weighs 42 pounds, roughly 60 pounds lighter than similar models on the market. Both products will be available later this month and compliment EnerPlex's full line of solar chargers and batteries.
"We're excited to be working with another Colorado-based company that is bringing truly innovative solutions to the market," says Backbone Media PR Director Ian Anderson. "With the proliferation of 'always on' devices in our everyday lifestyles, consumers are looking for the lightest, most efficient chargers and batteries to power their tech. We see huge opportunity for EnerPlex."
About Backbone Media: 
Backbone Media targets, engages and inspires the active lifestyle market through public relations, social media, content creation and media planning and buying. For over 16 years, Backbone has worked with leading outdoor gear, apparel, technology, food and beverage brands, as well as tourism destinations around the world. Backbone has offices in Carbondale and Denver, Colorado, and Jackson, Wyoming.
For more information, visit: www.BackboneMedia.net.
About Ascent Solar Technologies and EnerPlex:
Ascent Solar Technologies, Inc. is a developer of thin-film photovoltaic modules with substrate materials that are more flexible, versatile and rugged than traditional solar panels. Ascent Solar modules can be directly integrated into consumer products and off-grid applications, as well as aerospace and integrated building applications. EnerPlex is the Company's brand of consumer products and is a division of Ascent Solar. Ascent Solar and EnerPlex are headquartered in Thornton, Colorado.
For more information, go to www.goenerplex.com and www.ascentsolar.com