Regional, Pro Series Championships to highlight landmark event.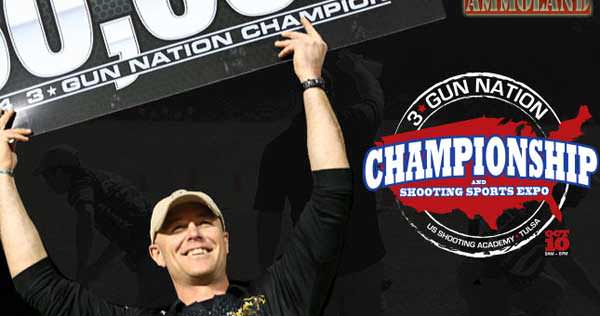 U.S. SHOOTING ACADEMY (Tulsa, OK) –-(Ammoland.com)- National Champions will be crowned, while the Pro Series Champion will win $50,000, all part of the 3-Gun Nation (3GN) Championship & Shooting Sports Expo here Saturday, Oct. 10 2015, 9 AM-6 PM.
After a whirlwind season for both 3-Gun Nation Pro Series and Regional Series competitors, the best-of-the-best in 3-Gun shooting will leave it all on the line this weekend, competing for division titles, industry prizes and cash awards.
The 3GN Shoot-Off, beginning at 4 PM CT, will feature the top eight competitors from the 3GN Pro Series, racing in a man-on-man sprint to the final target. An NCAA-style bracket will determine the head-to-head matchups and seeding, with the last man standing crowned 3GN Champion and taking home $50,000 from Leupold Optics and NRA Sports.
"The 3-Gun Nation Pro Series Shoot-Off is a sporting event like no other," said 3-Gun Nation President Pete Brown. "This is raw talent, pure emotion and excitement unfolding before a live crowd. Every Shoot-Off is a drag race, featuring dramatic finishes unrivaled by any other sporting event. Our athletes train and work hard to perfect their craft, and the final product is sports entertainment at its finest."
Also featured is the Lady Pro Series Shoot-Off, featuring a $25,000 cash prize sponsored by Samson Manufacturing.
"The Lady Pro Series is always an amazing thing to witness," Brown said. "Our top Lady Pro's are always ready to crush it, and they deliver every time. Over $90,000 in cash prizes will be given away at our event, which is the only one of its kind."

"The Shoot-Off will also be broadcast on Livestream, so folks all over the world can watch the action unfold in real-time."
Along with the Pro Series Championship, which is presented by Armalite, the 3GN Nationals will also be taking place. Eight courses of fire over two days will determine champions in each equipment classification.
"The 3GN Nationals will feature more than 250 of the top 3-Gun shooters from all over the United States, and this event is a true testament of what competitive 3-Gun is all about," said Charles Sole, 3-Gun Nation Match Director.
The 3GN Nationals will run Friday through Saturday and is sponsored by Remington Arms Company.
But the Shooting Sports Expo features much more than this world-class Championship Shoot-Off and Nationals competition. Beginning at 9 AM on Saturday, 3-Gun Nation will have at least five courses of fire open to the public to enjoy. Come try your hand at the 3GN Experience, a simplified 3-Gun course that any novice can enjoy. Next is the 3GN "Deathstar", a spinning, swinging shotgun target featured on the 3-Gun Nation national television show. A long-range rifle demo will be featured using products produced by Bushmaster and Surgeon rifles. Ruger will also be on-site, providing a .22-caliber course of fire of pistols and rifles. And lastly, a ladies-only pistol demo will be open all day for new lady shooters looking for some free instruction provided by "A Girl and a Gun."
Admission to the event is free, however purchased tickets will be required at the 3GN Experience and Deathstar stages. The cost is $5 for the first ticket, and $2 for each additional ticket. Additionally, Bushmaster will be collecting $5 donations on the long-range rifle course for the US Special Forces Charitable Fund.
The event is promoted in-part by KRMG 102.3 FM of Tulsa with support from the DAV (Disabled American Veterans) and Suburban Chevrolet. KRMG will host special guest and conservative TV personality Dana Loesch. Eye and ear protection will be required and will be available to those who do not have them. The US Shooting Academy is located at 6500 E. 66th Street North, Tulsa, OK 74117 (behind Tulsa Police Academy) and parking is free.