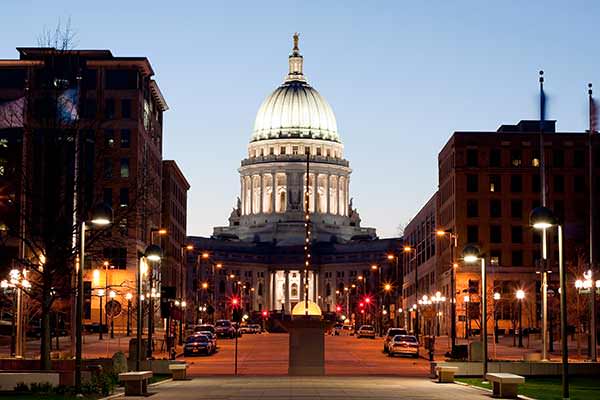 Waupaca, WI -(AmmoLand.com)- The 'Campus Carry Act' has been introduced by Rep. Jesse Kremer (R) and State Senator Devin LeMahieu (R).
The bill would allow students and faculty to be armed for self-defense inside of public universities and buildings. This common sense upgrade to Wisconsin's concealed weapons law could only be opposed by the delusional creeps who prey on the helpless or by the ignorant anti-gun zealots who prefer unarmed victims.
The anti-gun weirdos claim this legislation is "dangerous" … but it's their victim disarmament policy that irresponsibly leaves teachers and staff utterly defenseless … like sitting ducks.
The gun banners are pulling out all the dirty tricks and outrageous lies to stop this legislation.
WGO is urging gun owners statewide to contact their state reps by this Friday, 10/16, to sign onto the Campus Carry Act as a co-sponsor.
TAKE ACTION:
Click here to find your legislator

. Request that they be added as a co-sponsor to the Campus Carry Act. Have them contact Rep. Jesse Kremer's office at (608) 266-9175 -or- Sen. Devin LeMahieu's office at (608) 266-2056

by Friday, October 16 at 4:00 p.m.

Be sure your WGO membership is active. It's the only way we can keep you fully informed and active in this important fight for concealed carry upgrade in Wisconsin.
P.S.- Please make sure your WGO membership is active for this fight. If you're not sure if your membership is current e-mail me here so I can double check.
ACTION CHECKLIST:
✔ Contacted my state representative and state senator to co-sponsor the 'Campus Carry Act.'
✔ Activated or renewed my membership in WGO
About Wisconsin Gun Owners, Inc.:
Wisconsin Gun Owners, Inc. is a 501(c)4 non-profit organization. Donations made to Wisconsin Gun Owners, Inc. are not deductible for income tax purposes.
For more information, visit: www.WisconsinGunOwners.org.