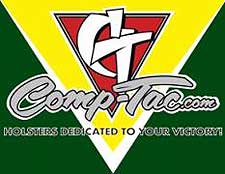 Houston, TX -(AmmoLand.com)- Comp-Tac Victory Gear, a leading manufacturer of concealed carry holsters, competition holsters and related accessories will make PINK Inside the Waistband holsters for a limited time only to support National Breast Cancer Awareness Month.
From October 20th through October 23rd customers can call Comp-Tac and order their MTAC, Infidel Ultra, Infidel or Infidel Max in pink Kydex.
With the purchase of a pink inside the waistband holster, Comp-Tac will donate 10% of the proceeds to the National Breast Cancer Foundation. Please visit www.nationalbreastcancer.org for more information.
"Pink has become a nationally recognized symbol for supporting breast cancer awareness. Comp-Tac wanted to do something really special to raise funds to donate to an important cause. What's better than to make a one of a kind Comp-Tac holster for those who wish to carry an everyday reminder?" explained Gordon Carrell general manager of Comp-Tac.
For more information on the full line of Comp-Tac holsters and gear, visit www.Comp-Tac.com, follow Comp-Tac on Facebook at www.facebook.com/CompTac, Twitter at @CompTac or visit our Blog.
About Comp-Tac Victory Gear, LLC:
In 2000 I started Comp-Tac with the intention of designing holsters of the highest quality for defensive and competition shooting. I started off with the Locking Paddle and over the years have designed over 30 products with 92,000 possible variations to accommodate your lifestyle and needs. Comp-Tac has grown from a one man shop to a business with dozens of employees. What started in my garage has grown into a drafting room, production line, customer service department, shipping department, and leather shop. Thanks to the great support of our customers and through their input we continue to grow and refine our product line. Whether you are competing for fun or in the fight for your life, no company offers more holsters dedicated to your victory.
For more information, please visit www.Comp-Tac.com.