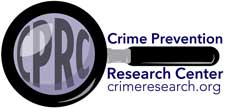 Washington, DC –  -(Ammoland.com)- As 2015 is coming to an end and so much is being done right now to try and add stricter gun control laws on the books, we at Crime Prevention Research Center continue to get the facts out on what these regulations actually do and what impact it will have on the public.
As you can see in the report below, the Crime Prevention Research Center has been very busy with our information being carried yet again by places from Newsweek to the Associated Press.
We have had three interviews on The Blase TV (two with Dana Loesch and one on Glenn Beck's show), but we don't have the audio or video of those interviews to put up on the website.
We have provided our End of Year Media Report for 2015.
In its second year of existence , the Crime Prevention Research Center (CPRC) secured a total of 439 media hits from November 2014 – October 2015 for an average of one media hit for each day of the past year . That is 187 more media hits than last year. Media hits included TV interviews and discussions on the CPRC, print stories about the CPRC or citing CPRC research, radio interviews, and editorials by CPRC academics.
Please consider supporting us to help the CPRC continue it's work in 2016.
Crime Prevention Research Center: 2015 End of Year Report
We wish you all a safe and happy holiday season!
Best wishes for the Holidays!
Nikki Goeser
Communications Director
Crime Prevention Research Center
http://crimeresearch.org