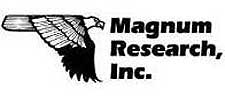 Greeley, PA -(AmmoLand.com)- Weighing in at almost 5 pounds, the stout Desert Eagle has always demanded two-fisted handling.
Now, Magnum Research is proud to introduce two new models in a lighter weight version which will make a noticeable difference when handling the pistol – albeit two hands are still recommended for most shooters. The Desert Eagle L5 and the L6 weigh in almost a pound or 2 pounds lighter than other similar Desert Eagle products.
The new Mark XIX L5 in .357 Magnum is offered with an all new 5-inch barrel length and features a hard-coat anodized black aluminum frame, black carbon steel slide and barrel, and Hogue finger groove rubber grips. The pistol also has Magnum Research's widely popular integral muzzle brake. The new lighter version of this popular Desert Eagle .357 is 2 pounds 9 oz. (3 lbs. 2 oz./50 oz. with an empty magazine) which also makes it New York State compliant. Overall length is 9.75", height is 6.25" and the slide width is 1.25". The DE357L5IMB comes with one 9-round magazine and suggested MSRP is $1,790.
Magnum Research also addressed the need for a lighter weight Desert Eagle in their popular .50 AE model. The Mark XIX L6 weighs just 3 pounds 7 oz. – nearly 12 oz. lighter than other similar Desert Eagle models. It is offered with a hard-coat anodized black aluminum frame with a stainless steel slide and integral muzzle break barrel, attractive black appointments and features a picatinny rail on the frame. Overall length is 10.75", height is 6.25", and the slide width is 1.25". The single action pistol has a 4-pound trigger pull. The L6 ships with one 7-round magazine and the MSRP for the DE50ASIMB is $2,054. The new lightweight Desert Eagles take the same magazines as the current steel models.
"Magnum Research has had tremendous success with the iconic Desert Eagle for over 30 years now, but we wanted to address the need for a lighter weight product," said Frank Harris, VP Marketing and Sales. "We offered our first sneak peek of this product at SHOT Show in January of this year, and with the tremendous amount of interest at the show we knew that these models were going to be a huge success."
Both the lightweight L5 and the L6 will be available for shipping in early 2016. For more information about all Magnum Research products, please visit www.magnumresearch.com.
About Magnum Research Inc. (MRI):
Magnum Research Inc. (MRI) opened up a new chapter in its 25 year old history when the Minneapolis, MN based company was purchased by Kahr Arms in June 2010. Kahr Arms, based in Worcester, MA with offices and factories in Massachusetts, New York, Illinois and California is a well known producer of high quality compact handguns and maker of the world famous Thompson submachine guns commonly known as the "Tommy Gun." Magnum Research's founders, Jim Skildum and John Risdall had been involved with the company since 1979. Both men oversaw the ascent of the Desert Eagle Pistol from a concept on paper to a pop culture icon including a Playboy magazine front cover featuring Pamela Anderson showing off a Pink Desert Eagle pistol.
For more information, visit: www.MagnumResearch.com.