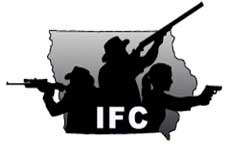 Clive, IA -(AmmoLand.com)- Join us on the 23rd for IFC's Second Amendment Day in the Iowa Capitol.
We'll calling on all Second Amendment advocates in Iowa to gather in the capitol for a show of support for pro-gun owner legislation making their way through the capitol. We'll be joined by representatives from the National Rifle Association and the American Suppressor Association. The day starts at 8AM, and we expect to see action in the House of Representatives as early as 10AM.
We've been told there's a fairly decent chance the bills that just passed out of committee will be voted on that day. It's not guaranteed, but it is a distinct possibility.
This means you'll be able to join scores of other gun owners and send a strong message to the Iowa legislature. As an added bonus there's also a good chance you'll see pro-gun bills voted on in person.
Please join us, and bring a your friends!
About Iowa Firearms Coalition:
Iowa Firearms Coalition is an entirely volunteer, grassroots, Second Amendment advocacy group. Responsible for bringing uniformity to Iowa's Concealed Weapons Permitting process, IFC's members work to protect and enhance Second Amendment rights in Iowa. An affiliate of the National Rifle Association, the IFC actively seeks to foster and promote the shooting sports. Sign up for our email list for the latest on Second Amendment issues in Iowa. You can support our work by becoming a member, or making a donation.
For more information, visit: http://iowafc.org.