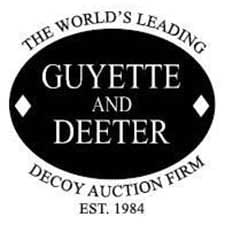 USA –  -(Ammoland.com)- Guyette & Deeter, Inc. conducted their 31st annual spring decoy and sporting art auction on April 21 & 22 2016 at the Pheasant Run Resort in St. Charles, Illinois. It was held in conjunction with the National Antique Decoy & Sporting Collectibles Show.
The auction grossed just under $2.8 million, with 58 lots selling for over $10,000 and 2 lots selling for over $100,000. Prices soared for iconic sporting art from the Paul Tudor Jones II collection, with all paintings from the featured collection selling.
The top decoy in the sale was an exceptional oversize Monhegan Island style merganser by Gus Wilson that sold for $149,500. A running sandpiper by Elmer Crowell was another highlight, selling for $80,500.
Gary and Jon attributed the solid prices to Guyette & Deeter's guaranteed condition reports and a Buyer's Premium that has remained at 15%.
Many of the lots were fresh to the market, with most of the sporting art being sold for the first time in 25 years, and most of the top decoys in over 20 years.
Click here to view the April 2016 highlights.
About Guyette & Deeter
Established in 1984, Guyette & Deeter, Inc. has held over 120 live auctions, realizing over $160 million in sales of decoys, paintings, and related sporting items. Our firm has handled the most important decoys and collections in North America and we have set nearly all of the world records in these categories: duck and shorebird decoys, fish decoys and plaques, duck calls and crow calls, decorative carvings, shotgun shell boxes, salesman sample canoes, and other related items. Visit : www.guyetteanddeeter.com