Our friends at Witt Machine make custom Clamp-On Muzzle Brakes starting at just $89.00 to fit most any rifle & they often ship in only two days…
Fort Garland, Co. -(Ammoland.com)- Muzzle brakes have been around in various forms for many years.
Originating on artillery, then finding their way on to large caliber assault rifles and eventually in many forms for small caliber firearms.
Designed and installed properly they serve to reduce the felt recoil or 'kick' that is all too well-known to any shooter of large caliber, magnum or ultra-mag rifles esp.; this "kick" being responsible for inflicting more than a few black eyes and bruised shoulders.
Until recently your options for adding a muzzle brake to your rifle were were few if any depending on the rifle.
You could either gamble on a "clamping" brake that would likely fly off on the first shot, leaving behind gouges in your barrel from the set screws; the ones you tightened until you thought they were going to break. Or if it wouldn't compromise the value of the rifle you could get your barrel threaded and use one of the generic threaded brakes that usually do little to reduce felt recoil; and only then if you know a local gunsmith you can both trust and afford.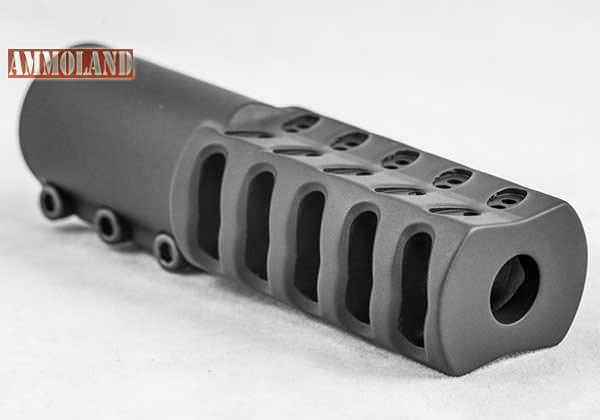 Witt Machine Custom Clamp-On Muzzle Brakes
Manufacturer Witt Machine has changed all of this with their Custom Clamp-On Muzzle Brakes that they can "make to fit almost any rifle"; offering shooters an excellent performing muzzle brake with several benefits that set them well apart from those offered by other manufacturers.
By appearance alone, it is obvious that this is not your typical muzzle brake; the usual design that merely dumps the barrel gasses out of a couple of large holes in the side of the brake almost exactly as the bullet exits the muzzle.
Witt Machine's Clamp-On Brake is designed with five ports on either side and twenty .078″ ports on the top of the brake; the bottom has no ports at all. While most of the barrel gasses are released out of the side ports as the bullet clears each 'stage' of the brake, highly-effective, Witt's design provides a minimum sixty percent reduction in felt recoil. At the same time, a smaller percentage is released out of the corresponding top ports, which helps to minimize muzzle rise. These work together to not only make shooting more comfortable, but also facilitates quicker and more accurate follow-up shots.
For most rifles, felt recoil is reduced to the point that the shooter can relax and stop 'anticipating' that next kick! as they pull the trigger.
Beyond the benefits of this design Witt can custom manufacture one of its MB1 Clamp-On Muzzle Brakes to fit nearly any barrel without a front sight and guarantee it will stay on! Witt also guarantees no change in accuracy or POI.
This is with absolutely no gunsmithing necessary and no alterations to the firearm required.
All they need are a couple of accurate measurements and the caliber of your rifle. Asking for both the barrel diameter at the muzzle and at 1-1/2 inches back, allows Witt to cut each brake to exactly match whatever taper a barrel may have. This perfect matching makes it possible for the brake to stay firmly clamped in place, while doing no damage to the barrel. Brakes can be made for any caliber and for barrels up to .900″ in diameter; yes they really mean it when they say they can make a brake to fit almost ANY rifle. They will even remake a brake for you (after providing some additional guidance) even if you just simply 'messed up' your measurements. That said, they are there to answer questions to help you get it right the first time.
Each Witt Machine MB1 Clamp-On Muzzle Brakes is made to order, finished in your choice of three finish options and usually ships just 2-3 days after you place your order.
These brakes are CNC milled from 416 stainless steel bar stock to provide a lifetime of use. Brought to their final finish in a vibrating tumbler, the brakes are offered in smooth finished stainless or for a small additional charge, with Graphite Black or Flat Dark Earth Cerakote; these optional coatings are heat finished for maximum durability. Installation is simple, quick and only requiring a smear of Blue Loktite and a 5/64″ hex wrench; they even send some extra screws.
Witt Machine's Custom Clamp-On Muzzle Brakes – model MB1 start at just $89.00 and are available directly from Witt Machine's web store: www.wittmachine.net
There you will also find a detailed "Muzzle Brake FAQ", information about how properly measure your barrel and lots more.
---
Read AmmoLand's related article on 1st Ever Suppressed M1919A4 Machine Gun by Witt Machine.
About Witt Machine:
Ken Wittekiend served 10+ years in the United States Marine Corps with multiple deployments to the Middle East. While stationed in Hawaii he was a marksmanship instructor and shot competitively. After the Marine Corps he attended the Precision Machining program at TSJC in Alamosa, Colorado. After working as a machinist for several years he started Witt Machine & Tool Co.