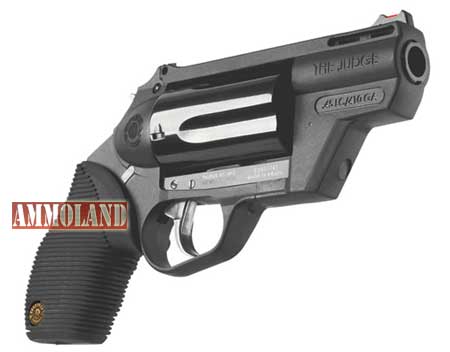 Miami, FL -(AmmoLand.com)- Taurus rang in the new year by celebrating the 10th anniversary of one of the most innovative revolvers in the industry, the Taurus Judge.
Celebration of this milestone began earlier in the year with the NWTF Convention and Sport Show in Nashville where The Judge was the showcase at the Taurus booth. To honor this monumental firearm and its evolution throughout the decade, planned events, sweepstakes, promotions and other activities are taking place throughout the remainder of the year.
The Taurus Judge, with its versatile 410 shotshell/45 Colt platform, captured the attention of shooting enthusiasts beginning in 2006 and continues to gain momentum in the industry today. To continue celebrating the success of The Judge, firearm enthusiasts can enter the "What are Legends Made of" sweepstakes at www.taurus-judge.com/tour.
The sweepstakes begins May 19, 2016 and runs to December 31, 2016. One grand prize winner will be walking away with a trip for two to the Taurus headquarters in Miami, a private tour of the factory, range time with champion shooter Jessie Duff, $500 Visa gift card, 5-year NRA membership, and a Taurus T-shirt and hat. Nine second place winners will receive a Taurus T-shirt, hat, $100 Visa gift card, and a 1-year NRA membership.
Join Taurus at the NRA Annual Meetings & Exhibits May 19-22, 2016 where attendees can stop by the Taurus booth (#2674) to purchase a special-edition Taurus Judge T-shirt or for an opportunity to win one during the "flash giveaways" which will be announced on Taurus' social media pages. Fans can check out Taurus on Facebook, Twitter and Instagram or follow the #WhatLegendsAreMadeOf hashtag to learn more about the sweepstakes, join the celebration and hear about exciting offers throughout the year.
Taurus personalities Jessie Duff, Fred Eichler and Chad Belding as well as YouTube channels TWANGnBANG, GY6vids and others will be posting via social media in honor of The Judge. Viewers should like/follow each partner to get up-to-date information about promotions and events as well as firsthand testimonies about this legendary revolver.
More information on the complete Taurus lineup is available at www.taurususa.com.
About Taurus Holdings, Inc.:
Headquartered in Miami, Taurus Holdings, Inc. owns or represents some of the most recognized and valued brands worldwide, including Taurus, Rossi, and Heritage.  Known as an innovator within the firearms industry, Taurus Holdings is a leader offering quality and value-packed firearms to the United States and Canada. Taurus International services all Taurus brand firearms under the Unlimited Lifetime Repair Policy as well.
For additional information about Taurus, visit www.taurususa.com.