The 2017 Toyota Highlander is pricy, luxurious and makes a great outdoor vehicle! ~  2017 Toyota Highlander Review
by Andy Lightbody AmmoLand Auto Editor

United States -(AmmoLand.com)- When you spend thousands of hours enjoying all that the great outdoors has to offer, and have the opportunity to test and write about "macho-vehicles" with thundering V8 engines, throaty turbo packages, wild/fanatical paint jobs, and cargo beds/carrying capacities to practically carry a garage full of outdoor gear, it takes a little getting used to when Toyota wants you to test their highly-refined, Highlander mid-size SUV equipped with a V6 hybrid engine!
To begin with, the 2017 Toyota Highlander ( http://www.toyota.com/highlander/)  got its last major make-over back in 2014, and another one is now slated for 2017. Exterior and interior upgrades coupled to a new V6 engine and 8-speed automatic transmission will impact the standard-gasoline powered models for next year. The Highlander Hybrid will reap a few of the new technologies, but mechanically it is going to be carried over, and for the right reason.
2017 Toyota Highlander – This SUV is both gas and electric.
Exterior wise, the Hybrid Highlander looks very much like its regular gas powerplant stable mates. In fact, you really have to look for those "special badges" or insignias that tell anyone… this SUV is both gas and electric. Your bottom line here is that the Hybrid offers one powerplant, a 3.5-liter hybrid V6 that makes 280 horsepower and 243 lb-ft of torque mated to a continuously variable automatic transmission and standard all-wheel drive (AWD).
It is so quiet when starting up, you are going to find yourself looking down at the gauges to double-check to see if anything is really happening. Once in gear and ready to see how the engine feels and responds, you "finally" get to hear a little noise as the vehicle goes from 0-60 mph in around 7.8 seconds. Once up to speed, the engine remains almost frustratingly "quiet," but is responsive at all the speeds when you hit and gas and need to scoot.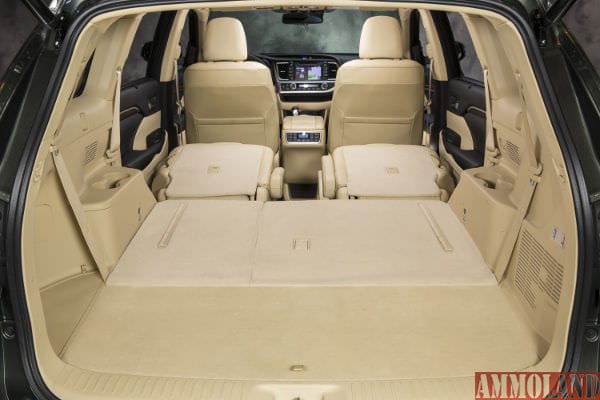 In the mileage department, it towers above nearly all of its SUV crossover competitors and is rated at an "honest" 27 mpg in the city and 28 mpg on the highway!
Wrap all this driving performance in an interior package that is "loaded" with more gadgets, gizmos, high-tech and luxury appointments for the driver and the passengers, and you have to be asking yourself as you read this… "So what's the catch, and why isn't everyone have one as their back-country adventure vehicle?
The answer is…. Money or the ka-ching factor! While standard gasoline-only Highlanders can be had with lots of luxury appointments starting in the high $30's, the Hybrid Platinum 2017 Toyota Highlander has an MSRP at just over $50,000.
Virtually all the luxury and convenience features are standard on the Hybrid Platinum, but it is a rather expensive offering for an SUV to use for camping, shooting expeditions and hunting adventures!
For the outdoors family that doesn't need an over-sized vehicle with a behemoth V8 for towing all the heavy-duty trailers and toys, the 2017 Toyota Highlander Hybrid still comes with a decent 3,500 pound towing capacity.
Built on a wheelbase chassis of 109.8 inches and sporting an overall length of just over 191 inches, the Highlander Hybrid falls comfortably into that "medium class/size SUV" family. The engine which is pared to multiple electric motors and a high-tech battery pack, powers the vehicle with front-wheel- drive under normal conditions. But if a wheel begins to slip or the driver suddenly needs some serious acceleration, the vehicle's rear axle motor kicks in automatically and provides full traction. We ran the vehicle lakeside where some of that "infamous" Oklahoma dirt/sand had turned into such slippery grease, that it made walking through it difficult. A quick tap on the accelerator, all wheels responded immediately and we scooted right through with very little slipping. Impressive…
Inside the driver/passenger compartment is seating for seven adults with three-rows. Behind the driver are the two passenger captain's chairs, and in the rear is a 60/40-split bench. Passenger chairs have a long travel and easy fold-down feature that makes it easy for your outdoor companions to access the rear area. When it comes time to load up the long gun cases, fishing rods and outdoor gear, all the seats lay down flat and provides a full 83.2 cubic feet of cargo room.
Appointments inside the 2017 Toyota Highlander Hybrid Premium are plush. Leather upholstery, giant sunroof, adjustable-height power liftgate, keyless ignition/entry system, tri-zone auto climate control, heated/cooled front seats, on-board trip monitoring features, large LED screen/backup camera, full nav system, blind-spot monitoring, auto collision notification, etc, etc.
If you can overcome the basic "sticker shock," there's a lot of luxury, fun and great fuel economy found in the Hybrid. With a slight vehicle redesign for 2017 in the works, look for the 2016s to start offering some discounts and bargains.
More info : http://www.toyota.com/highlander/
About the Author:
Andy Lightbody is a lifelong outdoorsman, sportsman, writer, author, and broadcaster. He has served as the managing editor for Western Outdoors magazine; senior editor at Petersen's Hunting magazine, and editor for the Guns & Ammo book division. Lightbody has authored countless game and fishing cooking articles, spent the last twenty years collecting jerky recipes from around the world, and was cohost of the TV/web show Cooking on the Wild Side.