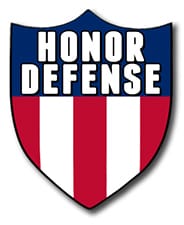 Atlanta, GA -(AmmoLand.com)- Honor Defense has partnered with LtCol Oliver L. North USMC (Ret.) to create a signature series pistol that will be auctioned to benefit the Duskin & Stephens Foundation.
The pistol is serial #1776 and has LtCol North's signature engraved on it. The package also includes an autographed Marine Corps Digital Desert Cover and his book "American Heroes on the Homefront". In addition, Duskin and Stephens Foundation has also included a barn wood flag hand made by a Green Beret.
The entire package is being auctioned on GunBroker.com starting at noon June 1st, 2016 and ending on July 4th, 2016 – www.gunbroker.com/item/561348196.
The LtCol Oliver North Signature Series pistol is a new Honor Defense Sub-Compact 9MM semi-automatic with North's signature engraved on the slide.
"We're thrilled to support Duskin & Stephens Foundation and partner with LtCol North," said Gary Ramey, President of Honor Defense. "LtCol North is a decorated combat Marine, a member of President Reagan's National Security Council Staff, and famous journalist. We greatly appreciate his partnership."
Ramey added "Duskin & Stephens Foundation is a wonderful charity comprised of active duty Green Berets who support the families of the Special Operations community. We are privileged to support them."
Ryan Misero, from the Board of Directors for the Duskin & Stephens Foundation added "The mission of the Duskin and Stephens Foundation is to support the United States Special Operations Community through direct support to families of fallen Operators, healing programs designed to combat the effects of PTS, TBI and loss of a loved one. In addition we support youth scholarships for children of active duty members of their community".
For more info about Duskin & Stephens, please visit www.duskinandstephens.org.
For more info about Honor Defense, please visit www.honordefense.com.
About Honor Defense:
Honor Defense offers the finest American-made pistols-using only American partners and materials. Honor Defense pistols are built with more features and higher quality standards than other pistols in their size range. To create its pistols, Honor Defense secured input from a panel of professionals that have defended our nation or have extensive credentials in self-defense training.
For more information, please visit www.HonorDefense.com.