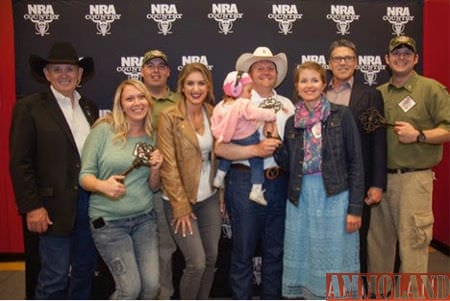 Fairfax, VA -(AmmoLand.com)- NRA Country and Military Warriors Support Foundation presented homes to three combat wounded heroes May 21, 2016, at the "NRA Presents Toby Keith with special guest Chris Janson" concert at Louisville's YUM! Center, a key event during the 145th NRA Annual Meetings and Exhibits.
Outdoor Channel's Eva Shockey hosted the powerful moment on the main stage, which brought the crowd to their feet. Joining her on stage to present the keys was Military Warriors Support Foundation's CEO & Founder retired Lt. Gen. Leroy Sisco, and former Governor of Texas, Rick Perry. Receiving the honor were former Maj. Andrew Arola, former Spc. Frank Battiest, and former Sgt. Christopher Gray.
Arola served in both the U.S. Army and U.S. Navy for a combined 16 years. He served his country with multiple deployments around the world and distinguished himself from his peers by his actions. In 2004, he deployed to Iraq, and while serving as an Infantry Platoon Leader, he was wounded while performing combat operations, for which he received the Purple Heart. Andrew was awarded the Bronze Star Medal for his professionalism and superior leadership in preparing his men for combat operations, even willingly extending his tour of duty to support the soldiers in his command.
Battiest served in the U.S. Army for eight years. In 2006, he deployed to Iraq in support of Operation Iraqi Freedom, where he served as a turret gunner in a HMMWV, or Humvee. While on combat patrol, Battiest was wounded during an enemy attack, and received the Purple Heart for those wounds. Despite his injuries, Frank recovered and rejoined his fellow soldiers in Iraq for a second tour of duty. He trained to find and defeat improvised explosive devices, or IEDs, and deployed to Afghanistan in 2011 to do just that. Frank served his country with honor and courage, and was awarded the Army Commendation Medal, Army Achievement Medal, and Combat Action Badge, among other awards.
Gray served in the U.S. Army and the Illinois National Guard for a combined five years of faithful service. He joined to serve his country in 2002, and became part of the first units to enter Iraq in 2003. During his time in Iraq he trained locals to become police officers and soldiers in their respective forces. After his tour in Iraq, he returned to the United States, and after two years passed, he re-enlisted, and joined a unit deploying to Afghanistan. While serving in Afghanistan, he was injured while on combat patrol and received the Purple Heart for his wounds.
Christopher was awarded the Army Commendation Medal, Army Achievement Medal, Iraq Campaign Medal with bronze arrowhead device and four campaign stars, the Combat Action Badge and many others.
About NRA Country:
Respect. Honor. Freedom. It's a lifestyle and a bond between the best and brightest in country music and hard-working Americans. NRA Country is powered by pride, love of country, respect for the military, and our responsibility to protect our great American lifestyle. NRA Country celebrates these values with concerts and events benefiting military and veteran services organizations, first responders, conservation organizations, firearm safety programs, and local charities making a difference in their communities.
Get NRA Country Connected at www.nracountry.com and get the latest artist info and exclusive events on Facebook, Twitter, and Instagram.
About Military Warriors Support Foundation:
Military Warriors Support Foundation is a 501(c)(3) non-profit charity, founded by retired Lt. Gen. Leroy Sisco in 2007. Our mission is to provide support for our nation's combat wounded heroes and Gold Star Families as they transition out of the military and into their new civilian life. This is a very fragile time for these heroes, and their families, and it is our goal to provide programs that facilitate a smooth and successful transition. Our programs include home donation, academic and employment assistance, as well as recreational activities.
For more information on Military Warriors Support Foundation and all of their programs, please visit www.MilitaryWarriors.org.
About the National Rifle Association:
Established in 1871, the National Rifle Association is America's oldest civil rights and sportsmen's group. Five million members strong, NRA continues its mission to uphold Second Amendment rights and is the leader in firearm education and training for law-abiding gun owners, law enforcement and the military.
For more information, visit https://nra.org.