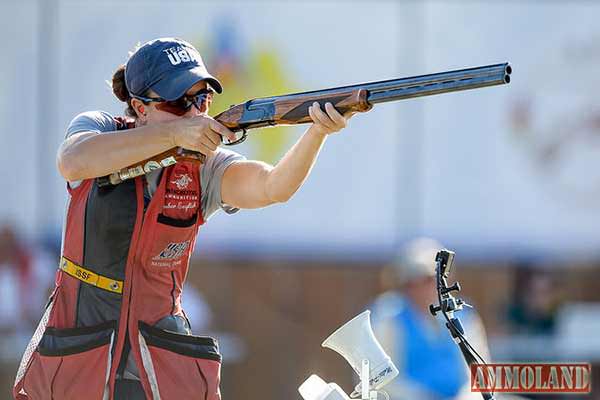 USA –-(Ammoland.com)- There might not be any longer applause or celebration for any one USA Shooting teammate this year than Amber English received Monday after winning her first International Shooting Sport Federation (ISSF) World Cup in Baku, Azerbaijan.
Eight years after breaking onto the World Cup circuit, she earned her first World Cup victory, defeating 2008 Olympic champion Chiara Cainero of Italy to claim victory. That was big in itself. Doing so six months and one day since the sudden passing of her father, friend and mentor, Mike, that's the real story.
English made the final by virtue of shooting a 72 out of 75 in Qualification. She connected on the most targets in the semifinal round with 15 hits out of 16. Facing Cainero, a 15-time World Cup medalist, English would miss two of her first six targets before reeling off 10 consecutive hits to earn a 14 to 12 advantage over Cainero.
It was the second World Cup medal for English, having previously shot to a bronze medal back at the 2010 World Cup in Acapulco, Mexico. She finished fourth in April at the Rio World Cup. The 2013 National Champion finished second in the Olympic Trials to five-time Olympic medalist Kim Rhode. She currently is the shotgun representative on the USA Shooting Board of Directors.
"I'm happy with my performance this year given all of the hardships I've had to deal with," English said from Baku. "I'm super grateful that I have the best friends, family and teammates anyone could ask for. This is all about learning how to take life's curve balls and turn them into something positive. I'm definitely excited to see where my shooting takes me now. This is just the beginning."

"I'm so excited for my friend and teammate to have won her first World Cup gold medal," said 2008 Olympic bronze medalist, Corey Cogdell-Unrein, who will be headed to her third Olympic Games shortly. "She is one of the toughest and most determined woman I know and that showed yesterday in dominating the finals."
The depth of the U.S. Women's Skeet program has really been showcased since London when you consider that English is the sixth U.S. women to medal in international competition and this is the 17th international medal earned including the past two World Champions, the 2015 Pan American Games Champion and a medal sweep led by English at the 2014 Championship of the Americas. This surge is led of course by reigning Olympic champion Rhode who will be joined in Rio by reigning World Champion Morgan Craft. Additionally, there was four Junior World Championship medals, including three from 2014 Junior World Champion Dania Vizzi, won during that span. Simply put, making the international travel roster on the U.S. team in women's skeet might be the single-hardest task.
Mike English, a former USA Shooting Team member as well as Board President/Chairman, passed away in late January while diving in the Cayman Islands celebrating his 30th wedding anniversary.
English was a 10-year member of the U.S. Shooting National Team from 1978 to 1988, and was a resident athlete at the Colorado Springs Olympic Training Center from 1981-1986. A five-time National Champion in Running Target, English earned a gold medal at the 1981 World Championships, bronze at the 1983 World Moving Target Championships, gold and bronze at the 1983 Pan American Games, gold and bronze at the 1985 Championship of the Americas, bronze at the 1986 Moscow Invitational, gold at the 1987 Pan American Games, and gold and silver at the 1988 Sweden Invitational.
In April 2001, English became President and Chairman of the Board of USA Shooting, Inc. He previously served as the National Governing Body's Vice President and Athletes' Advisory Council (AAC) representative (1996-2000) and was an Athlete Director on the USA Shooting Board of Directors (1988-1996).
Amber's win was the lone medal from a team of 11 that took on the final International Shooting Sport Federation (ISSF) World Cup series match of the year. Rio-bound Rapid Fire Pistol shooter Keith Sanderson (Colorado Springs, Colorado) was the next highest finisher in seventh. Double Trap shooter Josh Richmond (Hillsgrove, Pennsylvania) finished 10th. Ashley Carroll (Solvang, California) was 11th in Women's Trap while Caitlin Connor (Winnfield, Louisiana) was 14th competing alongside English in Women's Skeet to round out five U.S. athletes finishing inside the top-15 in their respective events.
"Baku was hard on the U.S. shooters for numerous reasons," English acknowledged. "I know I personally struggled with jet lag pretty bad there. The range was windy the last two rounds which really made me feel at home training in Colorado Springs. But, overall, the range is great, and I would gladly go back there anytime."