By Brenda Rolin
USAMU PAO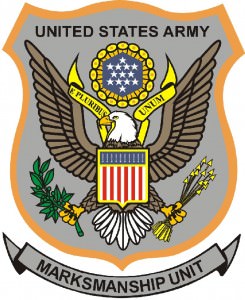 Hallsvile, MO -(AmmoLand.com)- Two Soldiers won top titles during the 2016 Bianchi Cup National Championship, May 24-28, among more than 200 competitors, at the Green Valley Rifle and Pistol Club near Columbia, Missouri.
Best known for their prowess in bull's-eye shooting events, this is only the second year any U.S. Army Marksmanship Unit (USAMU) Soldier has ever competed in the annual Bianchi Cup, an action shooting match established in 1979 that combines speed and accuracy as marksmen shoot at steel and paper targets.
The Bianchi Cup tests the shooters' skills from a variety of positions and distances, against moving targets and from cover.
The 2015 Metallic Division Champion Sgt. 1st Class Patrick Franks, USAMU shooter-instructor, successfully defended his title for the second year in a row.
"I really wanted to come back here and have a repeat of what I did last year, our first year," he said. "It was very rewarding, knowing I had to fall back on my previous training and the mentality of being able to walk up to the line and be able to focus on the task at hand and not try to overthink it, but just do what we know how to do best."
Franks, a 17-year veteran who has been assigned to USAMU since 2009, said the Army gave him the opportunity to compete in shooting sports full time.
"They saw something in me that I didn't see," he said. "I didn't come from a competitive shooting background."
Meanwhile, team member Sgt. 1st Class Adam Sokolowski won the Production championship title after finishing in fourth place last year.
"It definitely feels awesome to win," Sokolowski said. "Last year, I was shooting well and then missed two plates and that cost me the championship. This year, I missed one plate at the last yard line, and I was pretty upset, but in the end I shot better than last year."
This was also the second Bianchi Cup for Sgt. 1st Class Lawrence Cleveland. Last year, he finished sixth in the Metallic Division. Upping the ante, Cleveland tried his hand in the Open Division, finishing in 11th place.
For two other USAMU Soldiers, this was their first year of Bianchi Cup action. Sgt. 1st Class Michael Gasser finished in second place in the Production Division, only one point behind his teammate Sokolowski.
"Thinking about the whole train-up and season, learning from Sergeant Franks, Sergeant Sokolowski and Sergeant Cleveland, I'm proud to have come in second," he said.
Spc. Katie Bahten, shooting in the Open Division, finished in third place in the Women's Category despite a weapons malfunction in the initial stages of competition.
"This is a lot different from three-gun; you have to be much more precise," said the former USAMU Action Shooting Team member who fired pistols, rifles and shotguns in 3-gun matches before joining the USAMU Service Pistol Team this spring.
Cleveland, Franks and Gasser won first, second and third places, respectively, in the service category.
All five were in the top 36 finishing lineup for the Championship finals May 28.
To see the final scores, go to http://www.gvshoot.com/index.php?page=home.
About USAMU:
The U.S. Army Marksmanship Unit (AMU) wins national and international shooting competitions and advances small arms lethality to demonstrate Army marksmanship capability and enhance marksmanship effectiveness in combat.
For more information on the U.S. Army Marksmanship Unit, contact the Public Affairs Office at (706) 545-5436, [email protected] or www.USAMU.com.