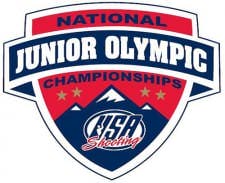 Colorado Springs–-(Ammoland.com)- The National Junior Olympic Shooting Championships wrapped today with training partners Trey Wright and Katie Jacob claiming top honors in Men's and Women's Skeet at the International Shooting Park in Colorado Springs, Colorado.
"It was stressful honestly," Wright said. "It feels great to have it all done. I was just thinking mainly that I want to come out of this top three or top two! It's pretty awesome though. I've been working so hard."
Wright (17, Albany, Georgia) shot not only a perfect 16/16 targets in the Semifinal match, but an additional perfect 16 targets as well to claim the gold medal during an often windy competition. He'd have to shoot that level of perfection to edge out Nic Moschetti (Broomfield, Colorado), who would go on to claim the silver medal. Moschetti, who led after the first day of competition, also shot a perfect 16 targets in the Semifinal, but dropped just one target in the gold-medal match. Elijah Ellis (College Station, Texas) would win the bronze medal.
Jacob (16, Rochester, Michigan) entered the second and final day of competition three targets back from 2015 World Championships Junior silver medalist Sydney Carson (North Liberty, Indiana). She would even finish the Semifinal match in second place to Carson. Once in the gold-medal match, however, Jacob would defeat Carson 14-11 targets to claim the gold medal. Sam Simonton (Gainesville, Georgia) won bronze.
Jacob has had quite the successful season, finishing in third place at Fall Selection, earning a bronze medal at the International Shooting Sport Federation World Cup in Nicosia, Cyprus, earning an appointment to the National Team, as well as winning the Junior World Cup in Suhl, Germany.
"It feels amazing," Jacob said. "I'm just so grateful to be able to compete with all these other amazing women and men. It's always a joy to be able to come up for Junior Olympics. You can't take it for granted just because it's a Junior event. There are girls here that compete at the same level as Open shooters. The U.S. definitely has the best women shooters. You can't take any shoot you have for granted."
Athletes competing in this match qualified for an invitation to the NJOSC with top scores in their respective State Junior Olympic Championships. They earned their way to Junior Olympics by qualifying through state qualifying matches with 21 states conducting competition for 515 participants. The competitors range in age from 10 to 20 years old, and are classified according to age as J1 (ages 18-20), J2 (ages 15-17) or J3 (ages 14 and younger). Shooters from 31 states were represented at this year's Junior Olympics.
For complete results from the National Junior Olympic Shooting Championships, please click here.
To view and download photos from this event, please click here.
Read the Double Trap and Trap recaps from this year's National Junior Olympic Shooting Championships.