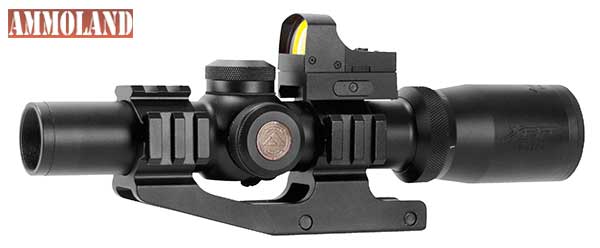 Ontario, CA –-(Ammoland.com)- Aim Sport Inc. is proud to announce the addition of a new CQB tactical combo kit to our 2016 offering.
This new combo kit features a first focal plane 1-4×24 3omm riflescope topped with a close quarters, fast acquisition, 1x23mm Micro dot sight and anchored with a rock solid one -piece off-set tactical mount that features 6 Picatinny attachment points.
This true 1x power riflescope allows for the user to keep both eyes open on low power to track fast moving targets and then with a turn of the dial power up to 4x and engage targets out to 500 yards. The first focal plane, Mil-dot, glass etched reticle provides rugged, reliable performance and accurate range estimation throughout the full range of magnification. The top mounted light weight, 3 MOA Micro dot sight provides quick transition to close quarters target engagement with a minor lift of the head. While retaining a good firearms action ready position. When you combine these two sights with our solid one-piece off-set tactical mount your are ready to rock and roll! For you gear hounds who don't mind carrying a little extra weight to gain situational flexibility by adding a light, laser or other attachments our 6 Picatinny mounting positions should be exactly what you're looking for.
Looking at all the features of this tactical combo kit (Model# ACRFFR) one would think it would be very expensive. However, as with all Aim Sports products, we are able to utilize our extensive manufacturing experience to kept this feature packed combo kit at an affordable MSRP price of only $280.00!
For more information, or to order yours today, please contact us at (909)923-2228 or visit us online at www.aimsportsinc.com.
Aim Sports Inc. was established in 2007 and has quickly become a premier manufacturer of firearms accessories worldwide. We strive to produce affordable quality products designed to meet the needs of both the beginning and advanced shooter. We manufacture both standard and unique products designed to improve the functionality and performance for some of the most popular firearms platforms.