AKTI Leadership Meets with Legislators from Numerous States the Organization is Targeting for Knife Law Reform in 2017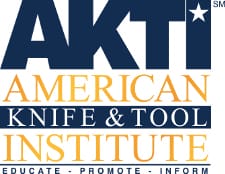 Cody, WY -(AmmoLand.com)- The American Knife & Tool Institute (AKTI) today announced that its lobbying team has spent last week at the National Conference of State Legislatures' (NCSL) annual Legislative Summit, being held in Chicago, IL.
Here, the team has met with state legislators from across the nation to discuss knife law reform in 2017.
At AKTI, we believe that most people who carry a knife do so for common, everyday purposes. People engaged in the building and agricultural trades, for example, carry knives on a daily basis. Knives are also essential for many outdoor activities, including hunting, fishing, fur trapping, hiking, camping, boating. Our goal is to ensure that law-abiding citizens feel knowledgeable and confident in their ability to carry the tools they use for their daily and recreational lives.
AKTI's 2017 legislative priority is repealing outdated legislation that prohibits possession and carrying of automatic knives.
"Our goal is to promote common-sense solutions to issues law-abiding knife owners face nationwide," said Jan Billeb, AKTI's Executive Director. "To accomplish this, we partner with policy makers and law enforcement officers to craft legislation to help address legislative vagueness, from the elimination of archaic terminology that is no longer objectively relevant, to the passage of statewide preemption of local knife ordinances, to the repeal of obtrusive or unnecessary knife laws. In 2017, we are putting a strong focus on repealing laws that prohibit law-abiding citizens from carrying automatic knives for their daily professional and recreational activities. We are excited to go into 2017 with significant momentum."
About AKTI:
The American Knife & Tool Institute is the non-profit advocacy organization for the knife industry and all knife owners. Its mission is to ensure that Americans will always be able to make, buy, sell, own, carry and use knives and edged tools. Formed in 1998, AKTI is dedicated to educating, promoting and providing relevant and accurate information about knives and edged tools as important tools in daily American life.
For more information, visit AKTI.org.