United States -(AmmoLand.com)- CAA rolled out a few new RONI models this year. No we are not talking about an Italian pasta dish or San Francisco rice treat; the RONI is a chassis that allows you to transform your pistol into a carbine or a quasi-carbine in this case.
By quasi-carbine, we are referring to the integrated use of the SIG brace. If you have been living under a rock for the past few years, the SIG brace was originally designed for disabled veterans and others with a disability that prevented them from securely holding a rifle. The brace goes against the inside of the forearm and is secured via Velcro straps to allow one handed shooting.
The SIG braces have proven to be popular on AR and AK pistols, but they are starting to pop up on a variety of other arms such as the Uzi pistol, CZ Scorpion and various HK MP5 clone builds.
RONI Stabilizer STAB Why?
Pistol caliber carbines are all the rage these days. There is no shortage of 9mm AR-15s with lowers that accept Glock magazines and the CZ Scorpion and Beretta Storm have proven to be popular with shooters who may not need the performance of a legitimate rifle caliber (think indoor ranges, outdoor pistol ranges, etc.) or even the weight of a carbine.
Then there are the guys who only own one handgun (we can't figure them out, either) who want to convert it into a carbine (or quasi carbine) for certain occasions.
CAA's solution is the RONI or in this review's case the RONI Stabilizer STAB and the shell accepts a pistol so that you can fire it like a carbine.
If you still cannot think of a good reason for it; think 9mm prices vs 223 and if that doesn't grab you, well then 'Merica, Hell Yeah!
RONI Stabilizer STAB The Good
CAA manufactures a variety of RONIs suitable for a surprisingly good variety of pistols. We tried out their RONI Stabilizer STAB with the included Stabilizing Brace with our Third Gen Glock 19.
Assembly is relatively easy. Open up the RONI "shell", insert your pistol and close it up again. Insert magazine, rack slide and fire at your target.
OK maybe it is not that simple. It took us a little while to figure it out (15 minutes), but once we did it turned into about a two minute operation to either install or remove our Glock G19.
One of the neat ideas we saw here was the charging handle that racks the slide for you while the Glock is encased.
The chassis sports enough rails to accommodate a wide variety of accessories: red dot sight (or even a low powered telescopic sight if you desire), weapon flashlights, lasers, IR illuminators, gun slings, even folding iron sights.
Accuracy is improved by the additional weight of the RONI Stabilizer STAB chassis as well as easy mounting solutions for optics. We appreciated the incorporated hand stop on the fore end.
CAA really made a product that points well and is very intuitive for the user.
We mounted a LUCID HD7 Red Dot Sight on it and took the whole kit and caboodle out to ring steel at 100 yards.
Sighting in took a bit of adjusting as the sight plane is a bit higher than the bore, but once it was dialed in, it stayed on target.
The addition of a safety that covers the trigger and trigger guard is another great implementation that they went with to really make this a safe firearm.
RONI Stabilizer STAB The Bad
We like silencers and unfortunately were unable to add one to our host gun while it was installed in the RONI. The channel for the barrel is simply too narrow. This may be a bit nitpicky, but we are of the belief that every firearm should be run suppressed. While not a deal breaker, we prefer to run quiet.
If we were going to invest in one of these we would look for an aftermarket barrel that would extend past the big fake looking flash hider and give us enough threads to run a can.
Our only other criticism would have to do with an immediate action type drill. If you get a malfunction or stoppage, it will take a bit longer to clear. Keep this in mind if you decide to cheap out with a subpar handgun. There might be a new learning curve compared to what you are used to with just a pistol.
We really liked the concept. Even when limited with a SIG Brace, we were able to reach out further with our G19. If someone really wanted to "SBR a Glock" this would be the way to go as the size is not much different from our SBRed FN PS90.
By that we mean using the RONI, but still ponying up for the $200 tax stamp and filing a Form 1 to make a SBR. This gives the ability to add a vertical fore grip as well as opting for an actual stock as opposed to the SIG brace.
Remember that using a brace such as this as a shoulder stock on a firearm with a rifled barrel that is less than 16" in length without a tax stamp will put you on the wrong side of the ATF.
There have been many attempts at turning a pistol into a carbine (or quasi carbine) over the years and most have been hit or miss but this seems like a very viable option to us.
It may not give you the boost in velocity out of a handgun, but it makes the handgun more accurate and more capable at longer ranges through improved stability.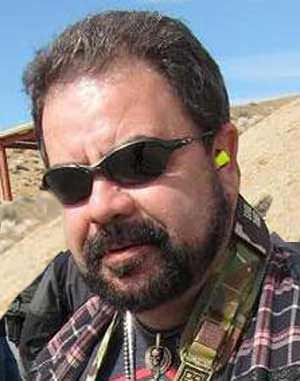 About Mike Searson:
Mike Searson's career as a shooter began as a Marine Rifleman at age 17. He has worked in the firearms industry his entire adult life as a Gunsmith, Ballistician, Consultant, Salesman, Author and was first certified to teach firearms safety in 1989.
Mike has written over 2000 articles for a number of magazines, websites and newsletters including Blade, RECOIL, OFF-GRID, Tactical Officer, SWAT, Tactical World, Gun Digest, Examiner.com and the US Concealed Carry Association as well as AmmoLand Shooting Sports News.