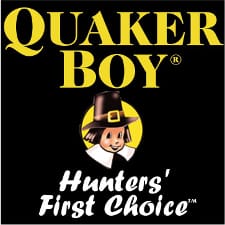 Orchard Park, NY -(AmmoLand.com)- The ergo grip, figure 8 paddle is designed to sound like old or young hen!
The lid has been thickened to give a more quality realistic sound with out adding any weight to the overall call!
Mother Nature is no match for this very innovated box turkey call!
The THUG 8-Ball box call elevates itself above all. Meticulously hand crafted with Cherry lid and Poplar bottom. The THUG 8-Balls Patent Pending ToneBlast technology frees the sound from the interior of the box. The sound is no longer trapped inside; The ToneBlast ports allow yelps, cuts, clucks and cackles to escape the interior of the box, reaching gobblers ears with clarity and definition.
Quaker Boy THUG 8-Ball Box Game Call
Unique Design!
Compact – Waterproof!
Very Realistic!
Cherry Bottom & Paddle!
Item #99308
MSRP – $29.99
About Quaker Boy, Inc.:
Quaker Boy Inc. is a manufacturer of wild game calls. Founded in 1976 in Orchard Park, New York.We pride ourselves on producing the highest quality and most innovative game calls in the industry.
For more information, visit: www.quakerboy.com.