by Michael W Loos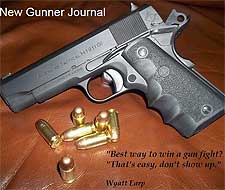 USA –-(Ammoland.com)- What Do You Do With Your Gun When You Use The Restroom?
It depends on where I carry. In my shoulder holster? It stays where it's at – unless you're George Costanza. If I pocket carry, I usually leave it in the pocket.
But if I carry on the belt, IWB or OWB, then it goes in the basket.
What is the basket? Well, you take off your gun (preferably with the holster attached, though in many instances this may not be possible or realistic) and put it in the crotch of your pants.
Why this guy on the above is not wearing underwear is beyond me, but carefully placing the gun here assures two things. The gun is safe from others and you won't forget it.
What you don't do with your gun while you're in the bathroom is more important.
Don't leave it on the back of the toilet. Don't put it on the sink. Don't hang it on the back of the door. Don't place it on the floor at your feet. Don't leave it in your holster without making sure it won't fall out, clattering on the floor or possibly outside the stall.
Some people leave it in the waistband holster, but re-fasten their belt at their knees, keeping the pant taut, the holster perpendicular to the ground. But in the end, the bottom line is – You are responsible for your gun at all times. Don't be the guy who leaves it on the commode "just this one time" and then realizes twenty minutes later that his gun isn't with him.
Not only do you hurt Second Amendment supporters everywhere with your stupidity, but immeasurably worse, you could cause injury or death to an innocent, for which you would be held responsible – both with jail time and with lawsuits.
As gun owners we claim to be trustworthy and responsible, and there you are doing your best Barney Fife impersonation.
Stay Safe and Carry Responsibly,
Hipshot – NewGunnerJournal.
My new book – Concealed Carry and the War on the Second Amendment, a collection from the New Gunner Journal – is now available at Lulu.com, Amazon and Barnes and Noble. If you have any questions about Concealed Carry or are sitting on the fence, this would make a nice Christmas present to learn about the lifestyle and those who live it.