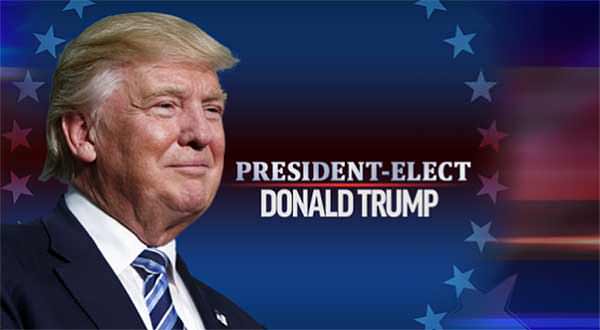 USA -(Ammoland.com)- The American people have elected a president who has pledged to protect our Constitutional rights and a majority of both houses of Congress that will work to ensure that our individual right to keep and bear arms will be preserved.
The work of those who love liberty and our nation's hunting and shooting sports traditions is never over.
Americans need to remain politically involved to help ensure that the defense of our Second Amendment remains strong and the lawful commerce in firearms is protected at all levels of government.
A Word about #GUNVOTE:
NSSF's 2016 #GUNVOTE voter education and registration initiative exceeded all previous election cycle efforts by several orders of magnitude and was made possible by the significant commitment of NSSF member companies, the enthusiastic involvement of retailer and media partners and the participation through social media and at the ballot box of #GUNVOTE supporters.
To illustrate the reach of #GUNVOTE social media, #GUNVOTE video views were nearly 20 million on all platforms.
Almost 200 million impressions were achieved on #GUNVOTE's Facebook account, which now has more than 450,000 followers.
Average total Facebook reach per day in the last 90 days before the election topped 776,000.
On Twitter we saw 30 million impressions and almost 40,000 followers.
In Washington: New Administration, New Tone
Those of us in the firearms, ammunition and related industries can truly breathe a sigh of relief with the results of the 2016 Election so clear to see.
We will not have to worry that a new president will nominate a Supreme Court justice to replace the late Antonin Scalia who will be the deciding vote in any challenge to the Heller decision.
Nor will we have to worry about a U.S. Senate that would approve that nomination.
Similarly, there will be no repeal of the Protection of Lawful Commerce in Arms Act (PLCAA).
In addition, we will not have to face more overreaching executive orders from 1600 Pennsylvania Avenue or behind-the-scenes, politically motivated bureaucratic rulemaking from departments and agencies intended to erode our industry's ability to conduct business within the law.
That said, the price of liberty is eternal vigilance, as one founding father remarked. Indeed, we cannot become complacent.
NSSF will not be letting down its guard in any sense on behalf of the industry and we will continue to keep you informed of any and all developments and when grassroots action will be required to encourage Congress to act or the administration to lead.
On Capitol Hill:
The Republican Party has retained control of Congress, keeping majorities in the House and Senate.
In principle and eventually in fact, that means President Trump should be able to work with Congress to turn campaign policy pronouncements and Republican Congressional proposed bills into law.
The election began with majority control of the Senate at issue, with 34 of the 100 seats available, and Republicans having to defend 24 of those 34 seats.
Democrats gained just two seats in the Senate, with Tammy Duckworth, an Iraq war veteran, taking Mark Kirk's place in Illinois and Maggie Hassan replacing Kelly Ayotte representing New Hampshire.
In Nevada, Cortez Masto retained Minority leader Harry Reid's seat for the Democrats, beating Republican Joe Heck.
In other Senate races, Todd Young defeated former Sen. Evan Bayh in Indiana. North Carolina Republican Richard Burr holds onto his seat. Wisconsin Sen. Ron Johnson held off Russ Feingold.
In Florida, former Republican presidential candidate Marco Rubio won re-election.
And in Arizona, Republican Senator and 2008 presidential nominee John McCain won his sixth term at the age of 80.
Democrats also failed to significantly dent the Republican advantage in the House, with only five Republican incumbent seats lost.
Across the Nation: Trump Wave Brings In Governors, AGs
Many state executive offices joined the red column in Tuesday's election.
Republicans started the day Tuesday with 31 Governors and gained at least two top state seats, and possibly a third. Republican gubernatorial candidates won in New Hampshire, Vermont and Missouri.
The gubernatorial race in North Carolina, a seat currently held by Republican Gov. Pat McCrory, is still too close to call. Going into 2017, Republicans will hold at least 33 governorships, the most in 94 years.
Additionally, Republican candidates for attorney general added two more of those offices to GOP control.
Republicans defended incumbent Patrick Morrissey's chair in West Virginia, secured the open Republican-held seat by electing Curtis Hill in Indiana, and also picked up the top state lawyer's job in Missouri. There are now a record 29 Republican Attorneys General.
Republican Control of State Legislatures at All-Time High
Tuesday's election had a tremendous impact on state legislatures across the nation.
Republicans now hold an all-time high 68 out of 99 state legislative chambers, and have control of both chambers in 33 states, up from 31.
Kentucky presented one of the more dramatic shifts with the ouster of the Democratic House Speaker along with 15 other Democratic incumbents, ending the 95-year reign of state house control by that party.
Similar results were seen in Iowa, as Republicans won control of the state Senate and in the process defeating the Democratic Senate Majority Leader.
Republicans also won full control of the Minnesota legislature, by winning the state Senate. They already held the House.
Some Blue States Become a Little Less Blue:
The presidential election had impact on some traditionally blue states where Democrats normally hold large advantages.
Republicans made important gains in Connecticut, Illinois and, amazingly, held onto control in New York.
In Illinois, Republicans won enough seats in the state Senate to sustain Gov. Bruce Rauner's vetoes and eliminate the supermajority that the Democrats had held, even though they maintain a simple majority.
In Connecticut, where continual tax increases and a big budget deficit plague the state, Republicans also made impressive gains.
In Connecticut's Senate, Republicans picked up three seats, enough to create a tie. Lt. Gov. Nancy Wyman (D) now must break tie votes.
It is the closest Connecticut Republicans have come to winning control since Ronald Reagan's 1984 landslide win carried the party to power.
The Republicans also significantly decreased the Democrats' current 87-64 majority in the House of Representatives, to a 79-72 majority.
An automatic recount was ordered in two close House races.
It marks a stunning change for the chamber, which Democrats controlled by a dominating 114-37 back in 2009.
In the New York Senate, the Republicans seem likely to hold the majority, based on the most recent election results. This means Republican John Flanagan of Suffolk County will continue to be Senate Majority Leader.
There is currently a closely watched race in the 8th Senate District of Nassau and Suffolk Counties with Republican incumbent Sen. Michael Venditto, trails behind his Democratic opponent John Brooks by 33 votes.
It looks like the Senate Republicans have a total of 31 seats in the 63 member chamber. But they also add another seat in their conference with Simcha Felder, a Democrat from Brooklyn who will sit with Senate Republicans.
In addition, the growing Independent Democratic Conference (a group of Democrats that generally side with the GOP) recently gained two more members.
Sunday Hunting Victorious in West Virginia:
The on-the-ground Sunday Hunting movement in West Virginia, assisted organizationally and financially by NSSF, has reason to celebrate after 11 counties Tuesday voted to authorize Sunday hunting on private property.
While NSSF was optimistic about securing passage in most of the counties, winning all 11 provides a clear sign to the state legislature that the time has arrived to implement statewide Sunday hunting.
NSSF is grateful to the voters who saw this as a private property rights issue.
While county initiatives in the past saw razor close margins, that was not the case on Tuesday.
The margin of approval was nearly 2 to 1 in every county with the exception of Monongalia, where it was approved almost 3-1.
Even more surprising are the results from the capitol region of Kanawha County where voters said yes to Sunday hunting, 67 to 33 percent.
Close to 200,000 people in the state cast votes in favor of Sunday Hunting and West Virginia now has 33 counties where it is permitted.
Indiana, Kansas Enshrine 'Right to Hunt' in State Constitutions:
Smith & WessonBy overwhelming margins – more than 80 percent in Kansas and just under 80 percent in Indiana – voters approved amendments to their respective state's constitution that will guarantee the right to hunt, fish and harvest wildlife, protecting this rich heritage for future generations.
Hunting and fishing are deeply rooted in both state cultures and have a major economic impact.
Indiana's almost 400,000 hunters and 800,000 anglers spend close to $1 billion annually and support more than 14,000 jobs.
Kansas's nearly 300,000 hunters and 400,000 anglers spend $630 million annually and support approximately 10,000 jobs.
There are now 21 states that have constitutionally protected the right to hunt and fish.
State Ballot Initiatives in California, Nevada and Maine:
There was no surprise in California as voters approved Prop. 63, the pet project of gubernatorial hopeful Gavin Newsom.
The ballot measure was duplicative as it included many provisions adopted by the legislature earlier this year. California law enforcement opposed the measure as they realized it will do nothing to enhance public safety.
In a close one, Nevadans approved Question 1, a measure that will require all firearms transfers be conducted through a licensed firearms retailer.
This includes sales and even the loan of a firearm to a friend. There was just a 10,000 vote difference where more than 1.1 million votes were cast.
On the positive side of the ledger, Gun owners scored a victory in Maine as Question 3 that would have required background checks on private gun sales was defeated.
The "Yes on 3" campaign was defeated 48 percent to 52 percent dealing a blow to Everytown for Gun Safety, funded by Michael Bloomberg, the billionaire ex-mayor of New York City who poured nearly $6 million into the campaign in Maine.
Rural voters overwhelmingly voted against the universal background check mandate.
About NSSF:
 The National Shooting Sports Foundation is the trade association for the firearms industry. Its mission is to promote, protect and preserve hunting and the shooting sports. Formed in 1961, NSSF has a membership of more than 6,000 manufacturers, distributors, firearms retailers, shooting ranges, sportsmen's organizations and publishers. For more information, log on to www.nssf.org.