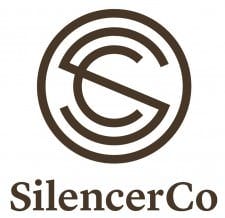 USA -(Ammoland.com)- You already know that SilencerCo's big ticket item for 2017 is the production launch of the Maxim 9 – but that's not the only thing we've had in the works.
We've expanded our full auto rated Omega K series to include the shortest hearing safe .45 silencer on the market to date and released our newly redesigned Saker ASR line to set the new standard for durability and affordability for full auto rated rifle silencers.
The Omega 45K is an exceptionally versatile suppressor and is the smallest, lightest, and quietest silencer in its class.
Full auto rated and usable with pistols, rifles, and submachine guns, the Omega 45K offers the same extreme durability in an ultra-compact package that you've come to expect from its smaller sibling, the Omega 9K, and is compatible with 9mm, .40 S&W, .357 SIG, 10mm, .45 ACP, .357 Magnum, .38 Special, .45 LC and both subsonic and supersonic .300 BLK.
SAKER ASR SERIES – 762, 556, and 556K
The newly redesigned Saker ASR sets the industry standard for durability and modularity at an affordable price. The Saker ASR was designed for use with bolt action, semi-auto, and full-auto firearms.
In addition to its performance, the Saker ASR's design allows for maximum user adaptability and convenience – ASR (Active Spring Retention) Mount technology facilitates attachment via a variety of different flash hiders and muzzle brakes with an additional option of direct thread mounting.
These new products are now shipping! Contact your preferred SilencerCo dealer today to place your order.
WANT TO SEE THEM IN ACTION?
Watch the video below to see the versatility and hear the sound suppression for yourself.
About SilencerCo:
Born and bred in the land of the free, SilencerCo started life when two men in a garage machined, welded, and shaped their dreams into reality. They had one core belief: Guns don't have to be loud. Now in our eighth year of existence, SilencerCo makes more silencers than anyone else in the market. We set the bar high for quality and innovation because in the end, that's all that matters.
For more information, please visit their website.