USA –  -(Ammoland.com)- SHOT Show 2017 is in the rearview mirror. Earlier this month I made my way, for the 12th consecutive year to the world's largest Shooting, Hunting and Outdoor Trade Show, in Las Vegas, Nevada.
As always, I attended the pre-show range day to preview and shoot many new products and then walked miles of show floor, along with 65,000 other attendees, looking for more.
At the end of five days, I have come up with my list of some of the best new products for 2017.
Colt Cobra Revolver
One of the most highly anticipated firearms of the show was the new and improved Colt Cobra Revolver. Chambered in 38 +P, it features a bead blasted finish, six-shot cylinder and high visibility front sight. Colt has re-engineered the trigger on this new Cobra from the earlier design. The result is amazing. The trigger pull is short, smooth as glass and lightweight. When I say it is the best trigger on any double action revolver I've shot, I am not kidding. I was able to keep all my shots on an eight-inch plate at about 25 yards shooting double action. I've been told Colt has more revolvers planned as well as new variations of the Cobra. I know many were skeptical about the return of modern Colt wheel guns, but if the Cobra is the new benchmark, they have succeeded in changing the revolver landscape. Colt.com
Winchester Long Beard XR 20 Gauge Ammo
Winchester set the turkey woods on fire a few years ago when they introduced their Long Beard XR 12 gauge turkey loads.
Promising 60-yard turkey kills, these new loads offered an alternative to much more expensive tungsten loads.
Almost immediately, turkey hunters, began requesting an equally effective 20 gauge load. I shot these loads at 40 yards and was impressed by the patterns they produced and the difference in recoil between it and its 12 gauge brother.
If you don't appreciate heavy recoil or you have kids who want to turkey hunt these are a good bet. Trulock Choke Tubes should have specialized tubes for this load by the middle of February to maximize its effectiveness. Winchester.com
Real Avid Gun Gear
Each year, Real Avid seems to up the innovation game by designing their own new and innovative products or by improving firearms related tools and gear already in use for some time. This year is no exception. Their new Bore Boss cleaning Systems is a big improvement over flexible bore cleaning systems made from coated cable or nylon. The biggest problem with these as they tend to get tangled and are difficult to store. The Bore Boss solves this problem while also providing a handle with which to pull the cleaning system through the bore without wrapping it around your hand. About the size of a hockey puck, and available in a variety of caliber options, the Bore Boss is truly innovative. Watch the attached video to see it in use Check out RealAvid.com to see all of their innovative and useful gun care tools and accessories.
Buck 110 Auto Knife
One of my all-time favorite knives is the Buck 110, locking blade folder. Its a true classic. One is on my belt, sheathed in its black leather pouch each time I got to to woods or the farm. For years, people having been using aftermarket kits to make the 110 an automatic opening knife. Now, Buck has helped out its fans by making it a standard production item. The 110 Auto features the same blade and looks as the original 110 with the addition of button to deploy the blade. It does not feel cheap, in fact, it felt strong and quite rugged when opened and locked in place. Being able to open this classic knife with the push of a button is a huge improvement and will no doubt aid when hands are full, cold, or otherwise engaged. BuckKnives.com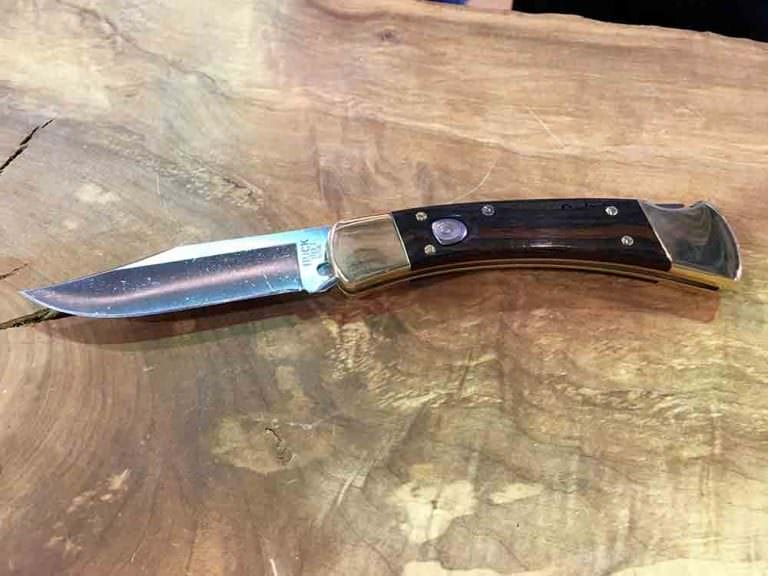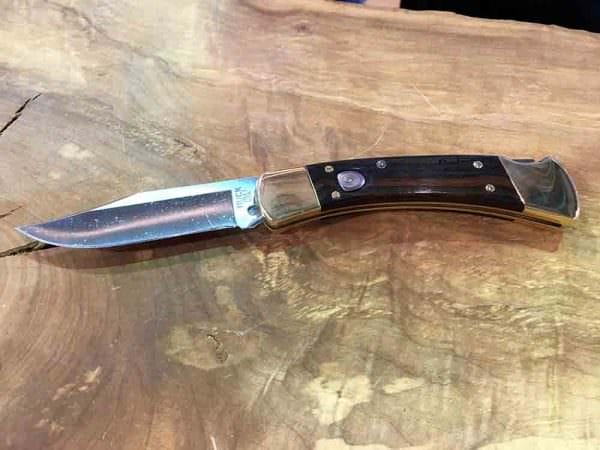 Ruger Ranch Rifle in 450 Bushmaster
If you live in area where your deer hunting is limited to using only short, straight-wall rifle cartridges or if you are looking for an accurate, lightweight, and compact thumper the new Ruger Ranch Rifle In 450 Bushmaster rifle might be what you need. Originally designed for hunters in southern Michigan who are limited in what firearms they can hunt with, this bolt action rifle can hunt equally well in most any environment whitetails roam. Its not a bean field rifle but will easily deliver out to 200 yards, much farther than most of shoot at deer or black bear. Using Hornady's 250 grain ammunition, sighted in 2.5 inches high at 100 yards it will impact 3.4 inches low at 200 yards. Beyond 200 yards trajectory falls off fast. At 300 yards it still packs about 900 ft.lbs of energy but will impact 24 inches low. I shot this rifle at Range Day, both in its standard version, complete with a muzzle break, and a suppressed version. Making accurate hits at 100 yards was easy with the scoped rifles.
I don't need this rifle but I think I want this rifle. It was fun to shoot, accurate, and throws a big bullet. Reloaders could have fun with this one. Ruger.com
Watch for my SHOT Show Highlights Part II feature soon where I continue my list of favorites from this year's show.
About Doug Gilmer:
Doug Gilmer is a law enforcement and military veteran with over 25 years. With experience and assignments operating throughout the United States and around the world in a variety of investigative, protective, tactical and direct action roles. He is an avid outdoorsman who enjoys fly-fishing, hunting with a handgun. As well as backcountry adventures, and volunteering with various outdoor themed wounded warrior events. He has been a frequent contributor to outdoor media. For for several years with numerous articles and photos published in a number of media channels. He is a member of the Professional Outdoor Media Association as well as a former board member and executive officer.