By Mike Searson
Notice there is no charging handle at the rear of the upper receiver. The back end of the American Spirit Arms Side Charging SPR Rifle is a sealed unit.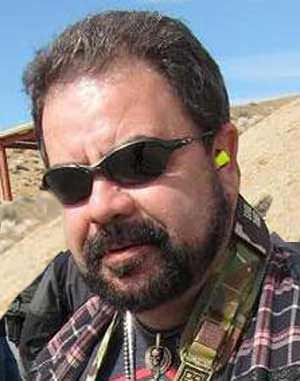 USA –  -(Ammoland.com)- American Spirit Arms (ASA) is an AR manufacturer that has been around for quite some time, but somehow has been out of the spotlight.
We remember their multi-page ads in Shotgun News from years ago, but sadly had very little hands-on experience with their products.
We had a chance to test one of their SPR rifles and the build quality was close to what we would call custom.
American Spirit Arms Side Charging SPR Rifle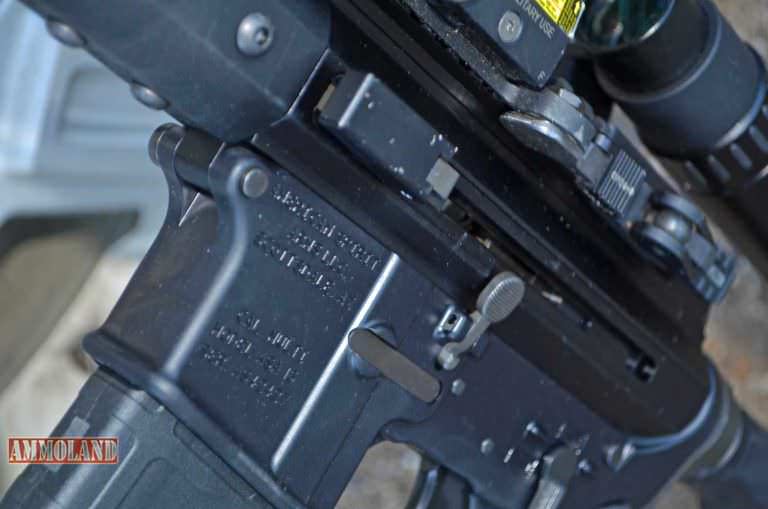 When you pick up the rifle for the first time, one impression comes to mind: Quality.
The second thing you might notice is that there is no charging handle at the rear of the upper receiver. The back end of the upper receiver is a sealed unit. That's because ASA has relocated the charging handle to the left side.
From an ergonomics perspective this makes sense. There is no need to break your shooting position to cycle the action. If you're former military or have been shooting ARs for a long time, this takes a bit of getting used to, but once you do the only thought that comes to mind is, "Why didn't they come up with this before?"
The truth is that they had, but early efforts by other manufacturers were dismal at best. ASA kept their heads down and simply built a better design, while others gave up on it or made an inferior product.
You may be thinking, "So what? I like my charging handle where it is and have no problems with it. I'm not a three gun shooter, SWAT Cop or Navy SEAL who has to maintain cover and concealment."
There is another advantage to the side-charging upper receiver: Elimination of the excessive gas that leaks through the gaps in the charging handle to blast you in the face.
After test firing the rifle over a weekend with our EO-Tech, and a Lucid Optics 2-5x Variable Magnifier and a case of ammunition from Freedom Munitions, we were satisfied with the accuracy and reliability. Their SPR rifle had us shooting 0.65″ groups at 100 yards. The FM's ammunition gave us no problems at all.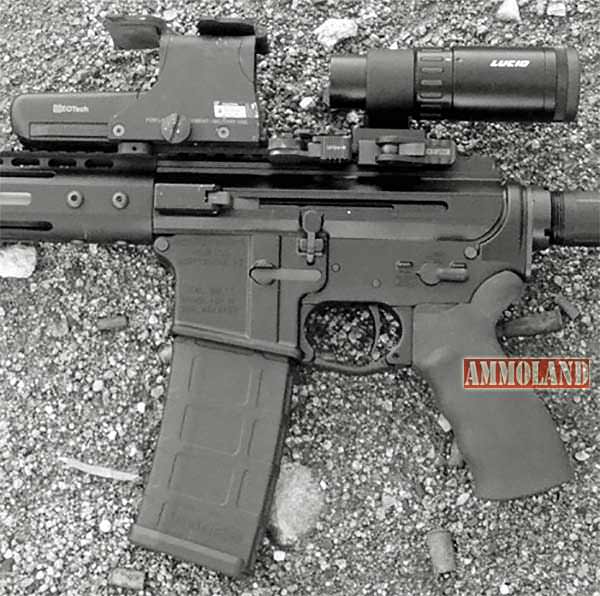 American Spirit Arms Side Charging SPR Rifle – The Good
ASA's SPR is built with a match grade 18" barrel, wears a low profile free floated rail from OSOS and has a match grade trigger that breaks at 4 pounds. The fit between the upper and lower receiver is incredible and all these features contribute to the high performance of the rifle.
The side-mounted charging handle is non-reciprocating and remains stationary between shots. After getting used to it, we found it quicker and more convenient that the standard charging handle which we have been using for 30 years.
American Spirit Arms Side Charging SPR Rifle – The Bad
Aside from getting used to the side charging handle, we really could find no flaws with this rifle. Muscle memory on an immediate action drill may be problematic should you suffer a malfunction, but that is a training issue.
The only other concern might be the design of the side charger leaves open horizontal slots in the upper receiver which could allow dust, sand, mud or snow into the rifle. In all honesty, it does not get dustier or sandier than the Sierra Nevada this time of year and we had no problems here. Being in those elements for weeks or months at a time may prove differently.
We should have an opportunity to put this part of the rifle to the test in the coming months.
Lastly, some shooters may balk at the price, especially if they are not familiar with the brand.
American Spirit Arms Side Charging SPR Rifle – The Reality
Because it's not part of the "Bad", I wanted to expand on that last point
As a "builder" who puts together 90% of his rifles, I usually caution new builders that most of the price of an AR build is in the roll mark on the lower receiver. This is why certain lower receivers can sell for $500 while an equally well-made one can be had for $129 (or lower).
In the case of ASA, you're not just "paying for a name", you're paying for the quality of components in a system. If the side-charging upper does not appeal to you, great you can find another rifle.
If you are looking specifically for a side charger because it makes you think you are shooting an HK, you prefer the ergonomics, economy of motion or you don't want to cover your charging handle in gasket sealer when running suppressors; then this may be the rifle that you are looking for.
The company sells uppers as a stand-alone component if you are a builder who does not want all the features in an SPR build or likes to put together rifles as funds become available. We were so impressed with the implications of the side charging upper receiver from American Spirit Arms that we picked up one of their stripped upper receivers and will give a full on report of its use in a custom build down the line.
About Mike Searson
Mike Searson's career as a shooter began as a Marine Rifleman at age 17. He has worked in the firearms industry his entire adult life as a Gunsmith, Ballistician, Consultant, Salesman, Author and was first certified to teach firearms safety in 1989.
Mike has written over 2000 articles for a number of magazines, websites and newsletters including Blade, RECOIL, OFF-GRID, Tactical Officer, SWAT, Tactical World, Gun Digest, Examiner.com and the US Concealed Carry Association as well as AmmoLand Shooting Sports News.
Home page: www.mikesearson.com
FB: www.facebook.com/mike.searson
TWITTER: www.twitter.com/mikesearson