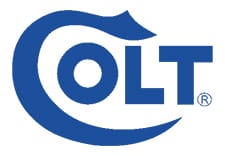 WEST HARTFORD, Conn. – -(Ammoland.com)-  Often considered the manufacturer that saved the 10mm round from obscurity in the 1980's, Colt readies yet another offering in that powerful chambering with the new Delta Elite Rail Gun.
Aimed toward the outdoorsman who requires a sidearm stout enough for midsized game who prefers the proven 1911 platform, the Delta Elite has always been a top choice. With its recent redesign, it didn't seem that the model could get any better, but Colt found a way to improve upon the design again by offering the Delta Elite with an accessory rail.
Colt Delta Elite Rail Gun
"The Delta Elite® started its life as tactical option for 1911 enthusiasts who required more stopping power than your tradition .45 ACP," said Justin Baldini, Product Director for Colt.

"In that world, an accessory rail makes a lot of sense. What we've seen, though, is that this is a great platform for hunting pig or other medium sized game. In those types of scenarios, proper illumination is critical, so I think hunters will really appreciate the ability to add on their favorite rail-mounted lighting."
All of the enhanced features from the newly redesigned Delta Elite are present on the Rail Gun version, including the upswept beavertail grip safety, extended thumb safety, all stainless steel construction, composite stocks with Delta medallions, and Novak white dot sights.
The SKU is O2020RG, and the MSRP is $1,299
About Colt's Manufacturing Company LLC
Colt's Manufacturing Company LLC is one of the world's leading designers, developers and manufacturers of firearms. The company has supplied civilian, military and law enforcement customers in the United States and throughout the world for more than 175 years. Our subsidiary, Colt Canada Corporation, is the Canadian government's Center of Excellence for small arms and is the Canadian military's sole supplier of the C7 rifle and C8 carbine. Colt operates its manufacturing facilities in West Hartford, Connecticut and Kitchener, Ontario. For more information on Colt and its subsidiaries, please visit www.colt.com.