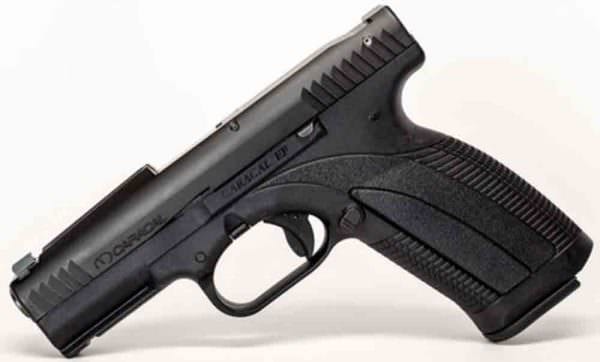 BOISE, Idaho –-(Ammoland.com)- Caracal USA today announced that it has partnered with GunsAmerica to provide a select group of dealers with an opportunity to be among the first to sell the Caracal Enhanced F – Limited Edition Pistol and benefit from exceptional promotional pricing to help make product available to consumers beginning on Independence Day, July 4, 2017.
This is the first product release from Caracal USA and the Limited-Edition pistol commemorates Caracal's commitment to supporting the U.S. market.
"We are very excited to get the Enhanced F into the market and into the hands of responsible shooters and enthusiasts who have been waiting for this release. Each week we receive many calls, emails, and social media comments asking where the pistol can be purchased. Look for the Enhanced F pistol on dealer shelves starting this July 4th," said Caracal USA Director of Marketing Jae Gillentine.
FFL dealers interested in selling Caracal products are encouraged to contact [email protected] to receive dealer-direct pricing and expedited shipping.
The Enhanced F – Limited Edition pistol is a striker-fired, polymer-framed 9mm pistol comprised of a Caracal International frame with a Caracal USA slide, and is assembled in the United States. The pistol features a crisp, short double-action trigger, an 18-round magazine and is available with 3 dot sights, or the highly acclaimed "Quick Sight System," which places both the front and rear sights on a single focal plane allowing the shooter to acquire a clear flash sight picture on target extremely fast.
"Combine the impressive trigger and the Quick Sight system on the Caracal Enhanced F, and the pistol is easily one of my favorite polymer-frame pistols to shoot," said Ammoland Editor Duncan Johnson.

"(Again,) we really liked the two Enhanced F pistols we shot at the range," stated David Crane in his article in Defense Review.
The Enhanced F pistol is shipped in a Caracal branded hard case with 2 magazines, an Otis cleaning kit, cable lock, and a user manual. MSRP for the Enhanced F pistol is $599, and is backed by a limited lifetime warranty for the original owner.
Later this year, the Enhanced F pistol will evolve to a U.S. manufactured product.
For more information about Caracal products, please visit http://caracalusa.com
About CARACAL USA:
Caracal USA is a wholly owned subsidiary of Caracal International and the exclusive importer and manufacturer of Caracal products in the United States.