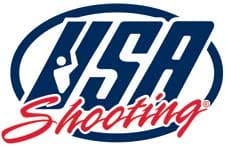 USA -(Ammoland.com)- Onto bigger and better, that's what 18-year-old Emily Stith said upon her high school graduation day last week. The one she skipped to compete in the International Shooting Sport Federation (ISSF) World Cup in Munich, Germany.
Friday, she proved what she was talking about while earning two silver medals in Air Rifle at the 27th Meeting of the Shooting Hopes junior competition in Pilsen, Czech Republic.
Stith (Colorado Springs, Colorado) highlighted a stellar day for the America rifle contingent that included three finalists and two team medals. Her teammate and Texas Christian University student-athlete Casey Lutz (Meridian, Idaho) also earned her way into the Final and finished sixth, the same spot she earned in Qualification.
The two combined with Olympic gold medalist Ginny Thrasher (Springfield, Virginia), a 12th-place individual finisher, to earn silver in Air Rifle team event. Ruby Gomes (Colorado Springs, Colorado) was 32nd while Morgan Phillips (Salisbury, Maryland) finished 35th.
On the men's side, Spencer Cap (Cranbury, New Jersey) was the third Finalist on the day in the Men's Three-Position Rifle event, finishing seventh overall after qualifying eighth. Cap's Finals performance along with a 12th-place finish by Jared Desrosiers (Colorado Springs, Colorado) and 19th-place finish by Will Shaner (Colorado Springs, Colorado) was good enough to earn a team bronze medal in the event. Logan Ogden (Galway, New York) was 27th.
Stith, the 2017 Junior Olympic champion in this event, had qualified fifth with a score of 415.7 and then moved up three spots during the Final and would lose on gold by just .4 points to Russia's Maria Ivanova.
Stith's performance continues a strong string of matches since the first of the year that also includes a second-place finish in Air Rifle and third in Three-Position at the Robert Mitchell Rifle Championships while shooting an Air Rifle Qualification score at the Meyton Cup of 421.4 back in February. That score would have been a National Record if it were a qualifying match.
Also, finishing up today was action in Men's Rapid Fire Pistol where Jack Leverett (Bainbridge, Georgia) was the high finisher in 21st place. His brother, Henry, finished 26th and Charles Platt (Colorado Springs, Colorado) was 28th. The precision half of Women's Sport Pistol also got underway Friday with Katelyn Abeln (Douglasville, Georgia) holding onto 17th place. Sarah Choe (Los Angeles, California) is 42nd.
The event began Thursday with Men's Prone Rifle and Air Pistol and will conclude Monday. Cap was top finisher in Men's Prone at 15th followed byOgden in 28th, and Desrosiers in 58th. In Men's Air Pistol, Jack Leverett finished 12th followed by Henry in 23rd with Platt coming in 49th.
For info on Meeting of the Shooting Hopes Results, click here.
About ELEY:
Eley is a Proud Sponsor of the USA Shooting Rifle and Pistol Teams: ELEY Limited, manufacturer of the world's most consistently accurate rimfire ammunition, has been the Official Sponsor and Official Supplier of .22 rimfire ammunition of the USA Shooting rifle and pistol teams since 2000.
For more information on ELEY and their products, please visit their website.
About USA Shooting:
USA Shooting, a 501c3 non-profit corporation, was chartered by the United States Olympic Committee as the National Governing Body for the sport of shooting in April 1995. USA Shooting's mission is to prepare American athletes to win Olympic medals, promote the shooting sports throughout the U.S. and govern the conduct of international shooting in the country.