by Dr. Jim and Mary Clary
Jim has his hunting buddy put the Ruger Accurate Drop Point Fixed Blade Knife to a real life hunting task with good results.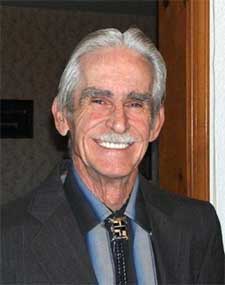 U.S.A. –-(Ammoland.com)- When Ruger decided to add to their brand by marketing knives for outdoorsmen, they did not make the same mistake as other major firearms companies.
Most of them ventured into the knife field by degrading their brand name with poor quality blades. Everyone knows who they are, so we don't have to mention them here.
Ruger demanded a quality line of knives designed by well known bladesmiths. As such, they partnered with CRKT who recommended: Ken Steigerwalt, Bill Harsey, Robert Carter, Matthew Lerch and Ryan Johnson.
These five experts designed a series of everyday carry, hunting, tactical and self-preparedness knives that are worthy of the Ruger name. And, as would be expected, CRKT made sure that each knife was well made with excellent steel.
We selected the Ruger Accurate by Bill Harsey for field testing. We handed the knife over to Abran Torres, an avid deer hunter here in New Mexico and owner of A&R Firearms in Los Lunas. That was in the fall of 2016, and Abran hit the woods with a vengeance, not only hoping to get a trophy deer but to have a chance to use the Ruger Accurate. However, sometimes the best laid plans don't work out. After several days of hunting, he never came across a buck worth harvesting. But, he did manage to bag a large coyote with full winter pelage.
Skinning a coyote to preserve the pelt requires a very sharp knife or you will "butcher" the pelt and eliminate its value. Skinning around the feet and head are the toughest part and the Ruger Accurate Drop Point Fixed Blade Knife performed superbly. Not once did Abran even think of stopping to sharpen the blade… it didn't need it. And, he got a prime pelt that brought top dollar.
In his opinion, this Ruger blade would have no problem with a deer, elk or even a wild hog. It was that good. In fact, we didn't get it back. The Ruger Accurate is now a permanent part of Abran's hunting "kit".
Ruger Accurate Knife Features and Specifications
Model number: R2201
Designer: Bill Harsey
Type: Fixed blade: Hunter/Skinner
Blade type: Drop point
Blade length: 4.40 inches
Blade width: 1.0 inches
Blade thickness: 0.125 inches
Blade grind: Hollow ground
Blade finish: Polished satin-finish
Blade material: 8Cr13MoV
Full-tang handle
Handle Grip: Rubber over mold
Reinforced nylon-fabric sheath
Hardness: 58-59 HRC
Overall length: 8.94 inches
Weight: 6.0 ounces
Country of origin: China
2017 MSRP: $99.95 (way cheaper online)
Because of the unique nature of the new Ruger line of knives, we would encourage our readers to check them all out at ShopRuger.com. There is a knife to meet every need and we will be testing and reviewing several of them in the coming months.
About Jim and Mary Clary:
Jim and Mary Clary have co-authored over three hundred and fifty articles, (and counting) on shooting and hunting. You can read many of them on AmmoLand News.