Knife Advocacy Organization Chooses CJ Buck and John Sullivan to Continue as the Organization's President and Vice President.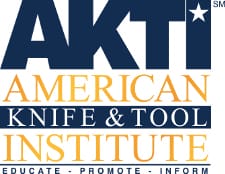 Cody, WY –-(Ammoland.com)- The Board of Regents of the American Knife & Tool Institute (AKTI) recently re-elected CJ Buck, the fourth generation of his family to head Idaho-based Buck Knives, to serve an additional two-year term as president, and John Sullivan, Director of Marketing at W.R. Case & Sons Cutlery Company, to continue as vice president of the association.
Buck was a founding member of the non-profit advocacy organization committed to ensuring that Americans will always be able to make, sell, carry and use knives and served two terms as vice president and was president from 2001-2003 and from 2015-2017.
In addition to providing leadership as a Board member, Buck has focused on AKTI's legislative work, chairing the AKTI Legislative Committee until 2015. He was inducted into the Cutlery Hall of Fame in 2016 for his efforts on behalf of the knife industry.
"I'm very excited about AKTI's legislative successes and the solutions we are working on to solve the issues that face knife users and the entire knife industry." Buck said. "It is an honor to have the Board's confidence and to continue leading two separate major federal initiatives. We are working on legislation to protect knife owners traveling from state to state and to remove the commerce restrictions on automatic knives."
Sullivan has volunteered on the Board of Regents of AKTI since 2012 and has been involved in the knife industry for over twenty years. As AKTI vice president the past two years, he has been involved in the organization's fundraising event at the Blade Show, and on the membership, legislative and finance committees.
"AKTI best represents the interests of the knife industry and the concerns of individual knife users. I'm pleased to continue to work with a united board that is committed to the growth of the industry and that our customers can freely use the knife of their choice." Sullivan said. "W.R. Case is eager to give back to the organization that has made a difference, protecting and ensuring our ability to make and use knives."
The American Knife & Tool Institute is governed by a nine member Board of Regents that include a broad cross section of the knife industry. Regular input to the Board from Advisory members also adds to the knowledge, credibility and professionalism of the organization to represent a broad spectrum of issues for the knife community.
For more information visit www.AKTI.org.
About AKTI
The American Knife & Tool Institute is the non-profit advocacy organization for the knife industry and all knife owners. Its mission is to ensure that Americans will always be able to make, buy, sell, own, carry and use knives and edged tools. Formed in 1998, AKTI is dedicated to educating, promoting and providing relevant and accurate information about knives and edged tools as important tools in daily American life. For more information, visit AKTI.org