Tom reviews the Puma SGB Warden Jaccaranda Wood Folding Pocket Knife.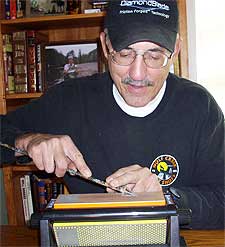 USA – -(Ammoland.com)- I bet it was over 40 years ago that a buddy introduced me to Puma Knives. At the time, they were all made in Germany.
Their fold-ups opened as slick as glass. Over the years I always favored them as my daily carry knife. At the time, the model I carried had a 3-inch blade and was a lock blade which makes a knife a lot safer.
Let's fast-forward 40 years now. Since those days there are basically two Puma Knife companies. There is still the German division but Bob Carpenter now runs the PUMA SGB division which is the American company. The knives are assembled in China but made out of German metal.
So even though the knives are assembled in China, they have some better steel in them making them better quality over typical China steel.
Like I say, I've carried a Puma foldup pocket knife for decades. They're thin and sleek. I don't like a thick knife. I want one that is less bulky and I forget that I'm even carrying it. The Ranger fits the bill for my needs.
It has a thumb nail slot to aid in opening it and I think that it is an attractive knife with the brass on both ends and the wood handle. The lock seems tight to me. I've never had a lock fail on any of my Puma knives.
The actual Puma SGB Warden Jaccaranda Wood Folding Knife cutting blade is 3 3/8-inches long which is my preferred length. I favor blades on my foldups that are somewhere around 3 ½-inches. The handle is 4 7/8-inches which is plenty large enough for me to have total control of the knife.
It has nearly a ½-inch hollow grind which means that you can sharpen it for a long time without being into a thick spine which is impossible to have the correct angle on.
I've gone back to favoring a straight blade for cleaning my big game animals but for years I gutted everything with a foldup knife. Plus, if you're on backcountry hunts and it is imperative to cut weight and bulk you might want to consider using a foldup knife.
I've cleaned at least 50 deer with one so they work fine. In fact, of all people (as you can imagine I have a million knives. Last November alone I received 30 to test and evaluate) while bear hunting last spring. In the end I forgot my favorite straight blade knife and all that I had was one of my foldup Puma's to skin the bear with.
They aren't a fine tuned high dollar knife but if you're on a tight budget but still want a knife that is nice looking you might just want to check out the Puma SGB Warden Jaccaranda Wood Folding Knife.
Some of the specs from Puma SGB Warden Jaccaranda Wood Folding Knife:
1.4116 German Cutlery Steel Manufactured in Solingen Germany
Overall Length Of 8.5″, 3.7″ Clip Point Hollow Ground Satin Finished Blade Weighing 7.2 Oz
Jacaranda Wood Scale With Brass Bolsters And Lanyard Hole
55-57 Rockwell Hardness Tested And Proofmarked With Limited Lifetime Warranty
Country of Origin : German steel, assembled in China
Knife Type : Folding
Blade Length in / mm : 93.98
Blade Thickness in / mm : 2.80
Total Length in / mm : 220.9
Weight oz / gr : 4.7
Blade Steel : 1.4116 German Cutlery Steel
Rockwell Hardness : 55-57
Blade Style : Clip
Lock Type : Lockback
The Classic Jacaranda Lockback Wood series knives have been in the Puma line since the 1960's! This series is very versatile as there are four different sizes to choose from ranging from the Gentleman, a small everyday carry, to our largest Warden which is excellent for hunters. The Warden also has an optional saw blade! The Warden with Saw has an overall length 8.5″, a blade length of 3.7″ and a total weight of 7.2 oz. This is an excellent alternative for the hunter who would rather carry a large folding knife vs a fixed blade. The hollow ground satin finished blades are made of 1.4116 German Cutlery steel with a thickness between 2.5 and 3mm!
This was a classic knife when it first came out and remains so, you can never go wrong with a Puma SGB Warden Jaccaranda Wood Folding Knife in your pocket.
About Tom Claycomb
Tom Claycomb has been an avid hunter/fisherman throughout his life as well as an outdoors writer with outdoor columns in the magazine Hunt Alaska, Bass Pro Shops, Bowhunter.net and freelances for numerous magazines and newspapers. "To properly skin your animal you will need a sharp knife. I have an e-article on Amazon Kindle titled Knife Sharpening for $.99 if you're having trouble"