New Ruger Tactical Mk IV is a fun target pistol that takes tactical to an all new level.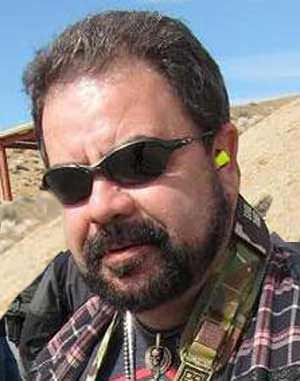 U.S.A. –-(Ammoland.com)- Sturm, Ruger & Co., Inc. has been making 22 target pistols for as long as we can remember. I actually used to work for the company that made the original adjustable sight that was installed on the company's first pistol while employed at Micro Sight of Belmont, California.
I've always loved the inherent accuracy in these pistols and have owned a few over the years. We say owned because reassembly of them was nearly the cause of a mild stroke on at least two occasions. That all changed when they rolled out the MK IV in 2016.
Ruger Tactical MK IV Target Pistol
On the outside, the MK IV Tactical has the same outward appearance as the Mark III pistol, with two exceptions: the addition of rails and a threaded barrel.
Styled after the popular Ruger 22/45 models which made the controls similar in feel, if not appearance to the Model 1911 as well as that familiar grip angle that most people seem to enjoy.
The biggest change from the MK III to the MK IV is the one thing we hated about these pistols.  Ruger added a simple, one-button takedown for field-stripping. No more turning the gun upside down or wondering how in the hell everything went together, just push a button in the back of the frame and she comes apart like a break open shotgun without the use of tools. The bolt then slides out of the receiver and it's done.
Hook the front of the upper receiver back on the pivot and snap it closed.
The good
Aside from ease of assembly and disassembly, the Ruger Tactical MK IV has one of our favorite features: a threaded barrel.
This allows the use of a silencer like Ruger's own Silent model or whatever other favorite 22 suppressors you have sitting around as long as it fits on 1/2 X 28 threads. We suppose you could add a muzzle brake or flash hider if you live in a ban state or want to make your pistol look like something Buck Rogers carried. Not that there's anything wrong with that.
A threaded top and bottom rail give you numerous options for red dot sights, scopes, lights, lasers or whatever else you need to make you a better shooter.
Controls are identical to a Model 1911 pistol and the rubber grip panels are the same ones Ruger uses on their own 1911 handguns. If you prefer another material they change out and most 1911 grips should fit on the pistol perfectly.
Where it really counts (at the range) we shot sub half inch groups all day with the silencer on and off.
The bad
The aluminum frame keeps the weight down on the pistol, but in our experience, they get beat up easily and will show signs of wear sooner than a steel frame.
The sights are simple black metal target sights; we were expecting fiber optics and have been getting spoiled with them. This is probably the only change we would make to this handgun.
Quite frankly, we had problems picking up the front sight on our first range trip. It could have been the position of the sun or our 47-year-old eyeballs, but our first attempts at shooting the MK-IV Tactical gave us atrocious groups as much as 3" at 50 feet!
Other than that, the rails give the pistol a busy look, but fortunately, if you are not using them, you can remove them.
Those cosmetics are really the only faults we could find here and both are easily rectified. The case with the rails is actually a tactic most manufacturers should take when changing something in their catalog to "tactical". Allow the user to easily remove any of the non-essential accessories.
The reality
Ruger was built on an accurate and affordable 22 semiautomatic pistol and all these years later they are still turning them out with improvements built upon the previous design. For some reason which we cannot remember we favored the MK II series over the MK III, although it may have had something to do with the trigger or safety. However, we are ready to declare the MK IV (even without the bbl threads and rails) as the king of Ruger's 22 semiauto efforts. It's all about that easy assembly and disassembly for us.
Our issue with the sights changed when we mounted a Sig Sauer Romeo on the rail and dialed it in. Then we got the famous smaller groups that this pistol is known for. So if you are gaining eyesight problems or have had them for a while, try the red dot or maybe painting the rear of the front sight with an easy to pick up color!
As for the threaded barrel, we tried a number of different silencers and used Gemtech's subsonic 22 LR ammunition. Unsuppressed at the shooter's ear, this ammo meters at 153.2 to 154.3 Db. Using the same ammunition with the Ruger Silent SR mounted up took that down as low as 112.8 and as high as 116Db for an average of 114.2 Db as opposed to 154 giving an average reduction of 40 Db.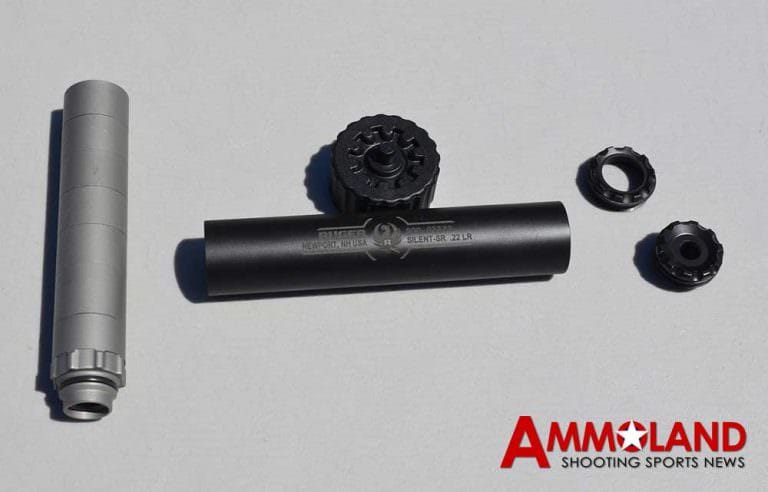 We hope to see this configuration on their all stainless pistols in the future or even better, incorporate the silencer into the barrel for an integral piece.
Specs
Capacity: 10
Barrel and receiver construction: Alloy Steel
Front Sight: Fixed
Barrel Length: 4.4″
Grip Frame: Aluminum
Grips: Checkered Synthetic
Finish: Black Oxide
Width1: 0.20″
Rear Sight: Adjustable
Barrel Threads: 12 x 28″
Weight: 34.6 oz.
Overall Length: 8.50″
Height: 5.50″
Grooves: 6
Twist: 1:16″ RH
CA Approved: No
MA Approved & Certified: No
MSRP: $569.00
---
Military Arms Channel: New Ruger Mk IV 22/45 Tactical with DeadAir MASK 22!
About Mike Searson
Mike Searson's career as a shooter began as a Marine Rifleman at age 17. He has worked in the firearms industry his entire adult life as a Gunsmith, Ballistician, Consultant, Salesman, Author and was first certified to teach firearms safety in 1989.
Mike has written over 2000 articles for a number of magazines, websites and newsletters including Blade, RECOIL, OFF-GRID, Tactical Officer, SWAT, Tactical World, Gun Digest, Examiner.com and the US Concealed Carry Association as well as AmmoLand Shooting Sports News.