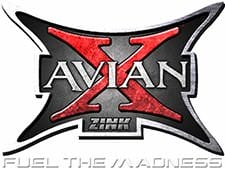 PORT CLINTON, Ohio -(Ammoland.com)- Ask any goose hunter to describe the perfect hunt. Many would talk of corn stubble, sweatshirt weather and flocks of big, gray-bellied honkers back peddling into a spread of several dozen full-body decoys.
It's an idyllic scene that'll stretch the lips of any goose hunter, but plenty like to hunt geese in other situations as well. Pasture ponds, lakeshores and snowy fields have all filled the dreams of avid goose hunters at one time or another.
Until recently, hunters had very few choices when it came to goose decoys, which severely restricted their ability to effectively replicate the look of real geese in all but the most common scenarios.
When geese are on the ground, birds within the flock are doing a variety of different things. Active feeders will have a hustle and bustle about them, while stationary long-necked sentries keep watch. Loafing birds often crouch down low to the ground, or even rest on their bellies.
When it's cold, it's common to see nearly every bird laying down with their feet pulled up into their warm feathers, only standing up occasionally to move to a new spot. This is especially true in snowy conditions when food is difficult to find and obtain. Faced with frigid conditions, geese will often tuck their heads into their back feathers, conserving energy by staying warm and resting.
This is when the added realism of sleeper shells gives hunters a decisive advantage.
Jimmy Wren knows a little something about loafing geese and cold weather. He cut his teeth guiding on Maryland's Eastern Shore and spent ten years guiding hunters all over the country.
"Hunting honkers during late-season cold-weather conditions, day in and day out, the large sleeper shell spreads are by far the most effective way to go," says Wren, who proudly punches the clock as Brand Manager for Avian-X, renown makers of the most realistic and effective decoys available to the waterfowling world. "When it gets cold, sleeper shells finish geese when all else fails."
As one might expect from his title, Wren has an affinity for very specific Canada goose sleeper shells, namely the all-new-for-2017 Avian-X AXP and AXF Canada Goose Sleeper Shells.
Available in both painted (AXP) and fully flocked (AXF) versions, these one-piece stackable shells perfectly portray sleeping or resting geese. Molded from Avian-X's advanced rubberized material and finished with incredibly realistic paint that will not chip, their deep relief and detail result in the spot-on realism that Avian-X is known for – a decoy that is nearly impossible to discern from the real thing.
The perfect compliment to Avian-X's AXP and AXF Honker Shells featuring positionable heads released last year, new AXP and AXF one-piece Sleeper Shells can also be mixed in with Avian-X full-body decoys, completing the ultimate, highly compelling, space-saving late-season spread. They'll provide a more natural appearance to any decoy spread, but especially when working hard-hunted late-season honkers.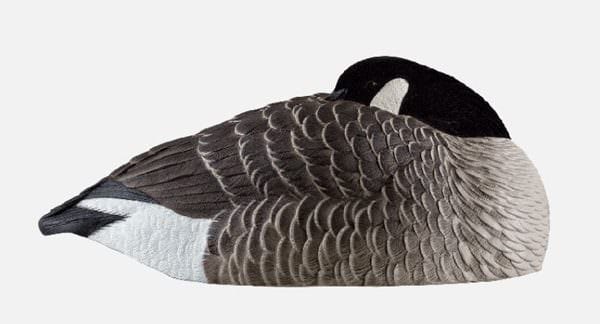 Avian-X AXP Canada Goose Sleeper Shells (Painted):
Slightly oversized at 23"L x 12"W x 8"H
Carved By World Champion Carver Rick Johannsen
Advanced rubberized molding material
True to life paint schemes
Non-chip paint
Flocked heads
Model / SKU: 9011
UPC: 8-10280-09011-6
MSRP: $129.99
Avian-X AXF Canada Goose Sleeper Shells (Flocked):
Six one-piece stackable shells included
Slightly oversized at 23"L x 12"W x 8"H
Carved By World Champion Carver Rick Johannsen
Advanced rubberized molding material
True to life paint schemes
Non-chip paint
Fully flocked
Model / SKU: 9023
UPC: 8-10280-09023-9
MSRP: $159.99
As Canada goose numbers continue to rise, there has never been a better time to hunt these plentiful birds. But added hunting pressure continues to make geese increasingly wary, so hunters need to kick-up their decoy game for consistent success.
Offering an incredible variety of different styles and poses of highly realistic floaters, full-bodies and shells, Avian-X makes the goose decoys that maximize the chances for success in any scenario.
Their new AXP and AXF Canada Goose Sleeper Shells perfectly depict the quiet contentment of resting geese, and will contribute valuable realism to any decoy spread.
About Avian-X:
The premier Zink and Avian-X brands offer today's waterfowl and turkey hunters the best and most complete line of highly realistic decoys, beautifully effective calls and other related products that result in increased success and satisfaction afield — whether that means more birds on the ground, or the creation of additional cherished, lifetime memories. At Zink and Avian-X, our goal is to use our team's extensive field knowledge and experience to promote and advance the sports of waterfowling and turkey hunting in a traditional, ethical, responsible, and enjoyable manner. Mediocrity is not an option.