Alien Gear's ShapeShift Drop Leg Holster is designed to provide the user a sturdy thigh holster attached to a modular system. With the ShapeShift system, one shell is capable of shifting into multiple holster variations such as IWB, OWB, ankle holster, etc.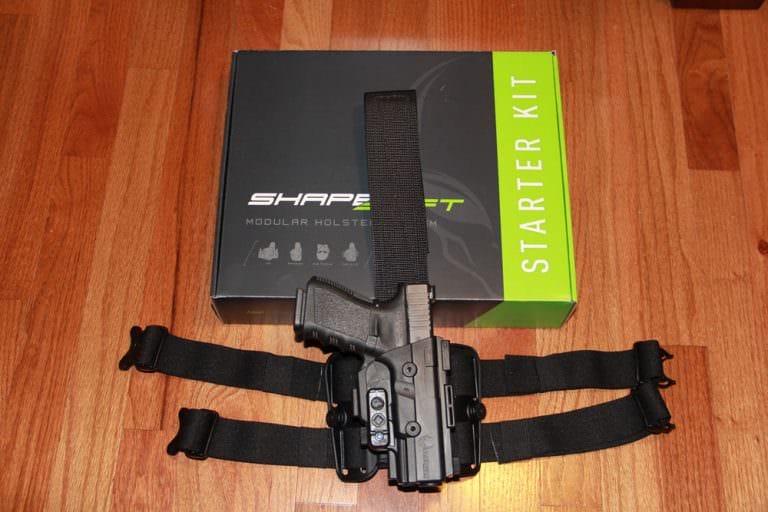 U.S.A. –-(Ammoland.com)- I am a big fan of holsters that carry on my hip for outside the waistband open carrying of my firearm. I have never been a big fan of drop leg (thigh) holsters. I was skeptical, but I figured why not try it out.
There are advantages, and drawbacks, to drop leg holsters that we should discuss first. The main benefit of a drop leg holster for me is that it is where my hands naturally rest. This position enables me to draw my weapon easier and with less movement.
I thought that it would be faster drawing from a drop leg. But, I found after comparing times drawing from my hip to the times drawing from my thigh, and had almost the same time. I do believe the time it took for me to get my firearm out of the holster was quicker when using a drop leg. But, the gun also had to travel a farther distance to get into a shooting position. I also have a lot more practice drawing from my hip.
Drop leg holsters make it easier to draw a pistol while wearing body armor. They are more comfortable to wear and access when kitted out. I don't usually go around in body armor; but my friend who recently finished a deployment did for a long time. This was a huge factor in his decision to go with a drop leg holster over a traditional holster.
Alien Gear makes good stuff, this led to my decision to give the ShapeShift Drop Leg Holster a try. As a side note, this is an expansion pack and not a full system. The end user will need to own the ShapeShift kit already before they can use the expansion pack. If the consumer doesn't have the full ShapeShift kit, Alien Gear does sell a complete ShapeShift drop leg setup.
The cool thing about the modular design is that the shooter is not married to a single gun. ShapeShift users can switch out shells whenever they change their carry gun. This direction of modularity seems to be where the firearms industry is heading.
The straps of the Alien Gear ShapeShift Drop Leg Holster are a sturdy nylon cam webbing held in place by velcro. The stitching is good and has not come loose while running the drop leg holster. The straps that go around the wearer's legs are elastic and connect with heavy duty polymer clasps.
The actual rig of the Alien Gear ShapeShift Drop Leg Holster is a flexible polymer material. This material bends and molds to the user's leg. This bend holds the rig in place and prevents the holster from sliding around the wearer's leg. The flexibility outperforms leather and far exceeds the flexibility of a platform made of kydex.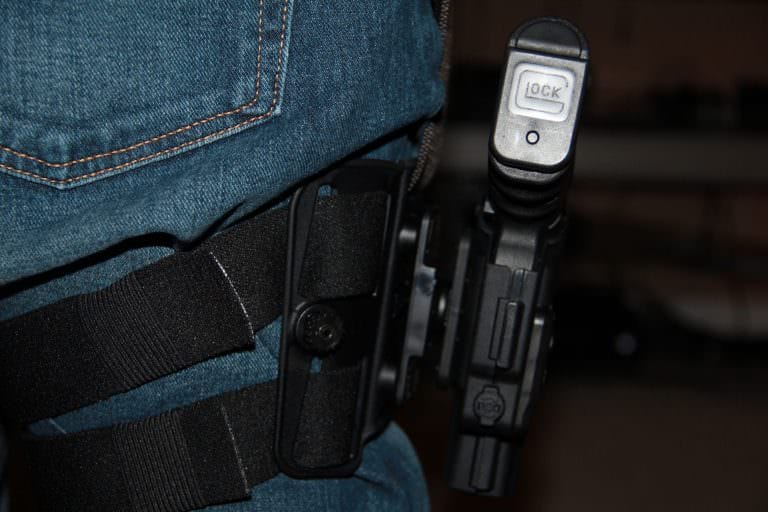 Alien Gear makes the shell of the ShapeShift system out of an injection molded polymer. I do like the fact the shooter can wear the ShapeShift holster in different fashions. It does take some getting used to when putting the holster together, but overall it is pretty intuitive. There is an option thumb release that comes with the ShapeShift holsters, but I did not use this add-on.
The strength of this system is pretty impressive. Alien Gear did an excellent job in the choice of these materials for the ShapeShift Drop Leg Holster. Alien Gear also produces their holsters in the USA. A little bias, but I feel the quality of US goods seems to be a little higher than Chinese products.
One thing I noticed with the optional thumb release installed was that it caused me to drop the magazine out my Glock 19. Due to where the thumb release is located in the holster, it is difficult not to hit the magazine release on the gun. I would not recommend running the ShapeShift Drop Leg Holster with the thumb release installed.
I do feel a little comfort since Alien Gear does offer a "forever" warranty. If it fails, they will replace it.
Overall I am impressed with the design and functionality of the Alien Gear ShapeShift Drop Leg Holster Expansion Pack without the thumb release. With the thumb release, I don't believe it is safe.  It is very comfortable and moves very little for a thigh holster. It isn't enough for me to switch to it for my every day open carry holster. The one thing that no drop leg holster has been able to solve for me is the feeling that my pants are being pulled down. For that, I will stick with my current hip holster.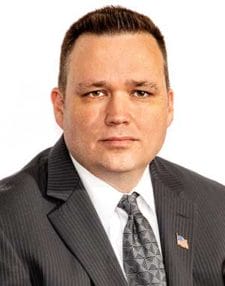 About John Crump
John is an NRA instructor and a constitutional activist. He is the former CEO of Veritas Firearms, LLC and is the co-host of The Patriot News Podcast which can be found at www.blogtalkradio.com/patriotnews. John has written extensively on the patriot movement including 3%'ers, Oath Keepers, and Militias. In addition to the Patriot movement, John has written about firearms, interviewed people of all walks of life, and on the Constitution. John lives in Northern Virginia with his wife and sons and is currently working on a book on the history of the patriot movement and can be followed on Twitter at @crumpyss or at www.crumpy.com.