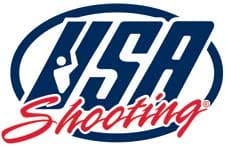 USA -(Ammoland.com)- The U.S. Women's Skeet Team knew that success would be the best medicine for their ailing coach. They delivered in the biggest of ways Friday at the International Shooting Sport Federation (ISSF) World Championships outside Moscow, Russia, with an impressive six-medal performance.
Their coach and 2000 Olympic bronze medalist Todd Graves had to be rushed to a Moscow-area hospital late Thursday night for an emergency appendectomy surgery. Coach Graves is recovering and news of his athletes' performance might just be the perfect post-surgical pain management plan. The intense competitor and coach had to beaming from his hospital bed Friday afternoon.
In his absence, all the team did was gather six total medals including a medal sweep in the junior division and two team gold medals behind two world-record scores.
The U.S. Junior Women's Skeet team of Katie Jacob (Rochester, Michigan), Austen Smith (Kellar, Texas) and Sam Simonton (Gainesville, Georgia) made history in Moscow with a 1-2-3 medal sweep with Jacob claiming the world title followed by Smith and Simonton. It's the first-ever World Champs sweep in women's skeet, junior or open. In junior competition, it's the first medal sweep in any shotgun event for any team. The 2010 Women's Double Trap Team from China is the only other women's team to claim every spot on the podium at a World Championships.
You could say we saw this coming if you look back to August 20 of this year as these three junior competitors qualified for the Final at the ISSF Junior World Cup in Porpetto, Italy, pocketing gold, fourth and sixth. Now, less than three weeks later, the stellar United States' trio is the talk of the sport.
"It feels absolutely amazing! It was great to have Austen and Sammy on the podium with me," Jacob said. "I was actually more excited for us sweeping the podium than for winning the championship!"
The 18-year-old Jacob, the most experienced among the three with an ISSF World Cup bronze already in her trophy case, climbed atop the podium at the end of an extremely balanced match, finishing with 48 hits and also setting a new Junior World Record.
The 16-year-old Smith, youngest among the six finalists, surrendered to Jacob only in the final phase of the match, as she missed four of her last 10 clays and sealed her World Championship silver with 44 hits. The third American finalist, the 17-year-old Simonton, finished Qualification with the top mark of 71 targets and would round out the all-USA podium with bronze.
Team Gold was also won by the United States and it was no contest really as the U.S. Trio set a new Junior World Record with 211 points, supplanting their next nearest competitor, the Czech Republic, by 18 targets. Germany took bronze with a total of 191.
The 2017 ISSF Shotgun World Championships, which includes 640 athletes from 76 countries competing in 22 official medal events, continues Saturday with the final 50 Qualification Targets, plus a Final in Men's Skeet. The highest men's Qualifier thus far for Team USA is Christian Elliott (Greenwood, Indiana) sitting in 28th-place with a score of 71/75. The highest junior qualifiers are Eli Christman (Hixson, Tennessee) with a current 24th-place result following a three-round score of 69 and Eli Ellis (College Station, Texas) in 28th-position with the same score. View full results.
The Championship concludes Sunday with a Mixed Team Skeet event.
About Winchester:
Winchester Ammunition is a Proud Sponsor of the USA Shooting Shotgun Team: Winchester Ammunition has been the exclusive ammunition sponsor and supplier of the USA Shooting Shotgun Team since 1999. Members of the past three shotgun teams brought home a combined eight medals from Rio de Janeiro, London and Beijing using Winchester AA International Target loads. Winchester is an industry leader in advancing and supporting conservation, hunter education and our country's proud shooting sports heritage.
For more information about Winchester and its complete line of products, visit their website.