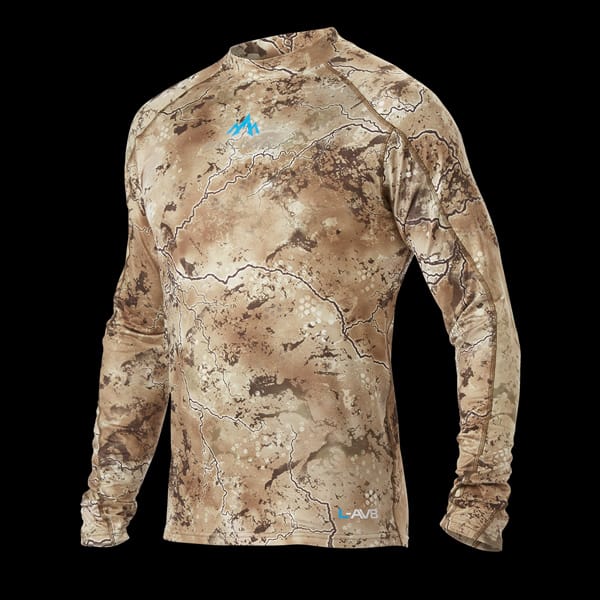 USA -(Ammoland.com)- L-AV8, LLC- A new company born to provide L-AV8 IE (Infused Energy) technology into clothing infuses the Rogue performance hunting shirts and lightweight base layer pant by Pnuma Outdoors, a rapidly growing quality hunting apparel brand.
Whether you're a weekend warrior or a professional hunter looking to enhance performance or gain more flexibility – or an outdoorsman seeking natural ways to relieve pain, the benefits encompass all walks of life and lifestyles.
L-AV8 IE Technology unlocks 8 core benefits – Increased Strength, Improved Hydration, Better Sleep, Greater Flexibility, Reduced Surface Inflammation, More Energy, Faster Recovery, and Increased Endurance. This technology allows extraordinary performance from gear by means of an electromagnetic infusion.
L-AV8 IE Technology is pushing the threshold between science and man; creating new, wearable technology like nothing seen before. This breakthrough technology is introduced in Pnuma's Rogue performance shirts and base layer pant. Hunters need to utilize every ounce of energy for long hikes, uphill climbing and possible survival situations. L-AV8 infused clothing will give the body the ability to dig deep and endure nature's abuse.
L-AV8 IE Technology is scientifically designed to increase stamina and blood flow. Materials are transformed at a molecular level to smooth out their naturally jagged wavelengths, a process that creates the ideal shape to attract and hold more electrons – which stimulates the body and mind.
This patent-pending process heightens the brain-to-body connection, stimulating the body's ability to achieve an elevated lifestyle for individuals seeking to improve their overall sense of well-being.
For maximum effectiveness, items should be worn as often as possible to see and continue seeing their positive results. L-AV8 IE is a therapeutic energy enhancement that will last the lifetime of the garment and cannot be washed out. Individual results may vary based on the chemical makeup of each person.
The Rogue performance hunting shirts and base layer pant utilize a host of features and benefits outside of the L-AV8 IE technology. These garments are designed with a soft, high performance, mid-weight fabric that boasts a fit that's easy to move in. It is the perfect pullover for everything you do in the outdoors when high performance fabric is needed – or even if it's not.
The comfortable polyester blend has added SilverStrike antimicrobial that keeps you and your shirt smelling fresher, longer. The contoured elbows and gusseted underarms allows free movement. The Rogue Series pays special attention to comfort with flat stitching and has eliminated irritating shoulder seams.
Rogue Series with L-AV8 IE Technology Features:
Patent Pending L-AV8 IE Technology
Athletic fit
Polyester blend
SilverStrike antimicrobial helps the garment stay fresher, longer
No shoulder seam and flat stitching for comfortable wear
Neck tape covers collar seam for added comfort
View Rogue with L-AV8 IE technology
Scott Shultz, President of Pnuma states, "We are pleased to offer L-AV8 IE technology in the Rogue line as the launch has proven successful. It's exciting to give our customers the opportunity to incorporate L-AV8 into the lives. My personal experience with L-AV8 has been very positive. All of us at Pnuma are focused on offering products that help customers perform at their peak in the field – and the benefits of L-AV8 can help them do just that."
L-AV8 and Pnuma are pushing the boundaries, the way nature intended.
For More information visit L-AV8 and Pnuma Outdoors.
About L-AV8:
The patent-pending technology held by KitCore Labs for L-AV8 IE possesses the ability to capture the proper electromagnetic pulse and infuse it into clothing and materials. This therapeutic energy enhancement will last the lifetime of your product and cannot be washed out of the garment/product.
More information about this technology and studies can be found at kitcorelabs.com.